Order Update – February 2021
Due to ongoing congestion at ALL UK ports as the result of the COVID-19 lag in container orders in the autumn/winter of last year and continued social distancing restrictions, unfortunately, in the short term, some of our lead times are having to be increased slightly to take into account the time it is taking to receive our stock.
It's not all doom and gloom as we are advised by our various freight agents that there is some light at the end of the tunnel in terms of flow through our ports improving over the coming months.
However, in the meantime, until normal operations return to the ports, we will endeavour to complete all orders as soon as we can and keep you updated with any changes. So please try to plan when you need to place your order so that our lead times are in line with your project schedules.
The CIRC Team
(16th February 2021)
---
Guaranteed Christmas 2020 delivery dates!
Despite this being such a strange year and that now there may be a little light at the end of the tunnel, demand for our traditional cast iron radiators has been fantastic!
Although we have all been through so much change March this year, many of you still seem to be forging on with your projects both big and small!
Due to the measures that we have prioritised to ensure the safety of our staff and also some staff having to self-isolate at times as a precautionary measure on advice of the Track and Trace system, we continue to use our daily quota system.
This is to make sure we can meet your expectations on lead times and still offer the excellent customer service and quality radiators we have become renowned for.
In view of this we have set the following cut-off dates:
Radiator/Pallet deliveries: The last date that we can receive orders to guarantee a pre-Christmas delivery will be Thursday 26th November 2020 with the last date for delivery being Wednesday 23rd December 2020.
Accessory only/DPD deliveries: The last date that we can receive orders to guarantee a pre-Christmas delivery will be Wednesday 23rd December 2020 with the last date for delivery being Thursday 24th December 2020.
Any orders placed after the cut-off date cannot be guaranteed to be despatched prior to Christmas.
If you do not require your order until the New Year, please indicate this in the comments box at checkout.
For any further updates, please see our news feed and social media feeds in the run up to Christmas for any additional changes.
Please continue to keep safe!
The CIRC Team
(13th November 2020)
---
Coronavirus Update – October 2020
Following on from recent developments in terms of Covid-19 and reports on the news due to the increased number of positive cases, our showroom remains closed to the public at this time.
We continue to operate a daily sales quota which when reached, renews at midnight each day.
Therefore, there may be times when you cannot place an order online on that particular day – If this is the case, you can and should try to place your order the following day.
We have not taken this decision lightly, but it is one made with the well-being and safety of our staff in mind as well as in the best interests of our customers.
The CIRC Team
(19th October 2020)
---
Great News! We're Moving!
As this year moves forward and a little bit of normality has returned, but still with a degree of uncertainty, here at the Cast Iron Radiator Centre, we have continued to operate within the safety framework and advice available.
However, although a little delayed (4 frustrating months actually!!), the commitment and investment into our business has never been more prominent and we are pleased to announce that after months of planning, sheer hard work and determination, we will be moving to our new bespoke HQ at the end of September.
Our new HQ is double the size of our previous premises and since acquisition, has been stripped back, re-designed and completely fitted out from scratch to offer the bespoke elements required across all areas of our business from production to administration.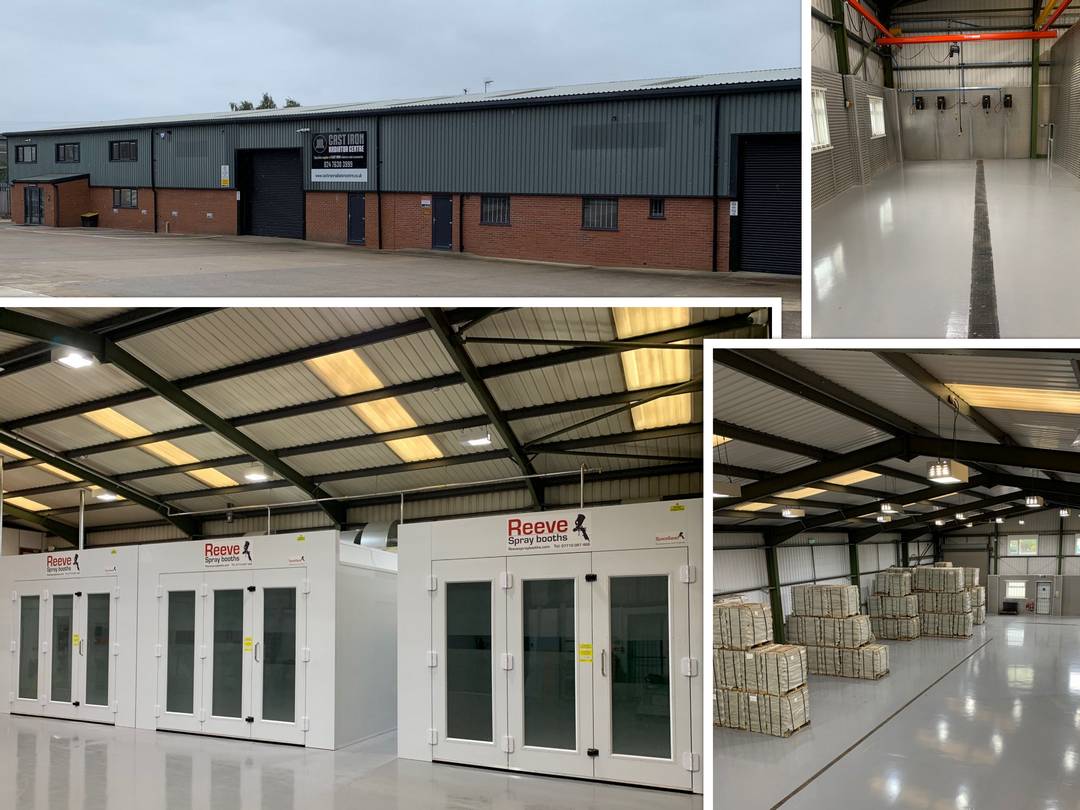 These include three brand new professional spray booths supplied by Reeve Spray Booths, the trebling of our pressure testing facility, a brand new Demag crane for lifting, a bespoke area for the team who assembly every radiator to order and state of the art administration and communications.
Due to the move, we will extend the current lead time slightly for a short period, but will revert this back as soon as production starts and the move has been completed which should take a few days.
Since March, some of our staff have been on furlough in order for us to operate safely and maintain social distancing, we have operated a quota system heavily restricting orders taken on a daily basis. Once the move is complete we will increase our production significantly to meet customer demand ongoing for our cast iron radiators.
Finally, we want to thank all our customers for their patience over the last 5-6 months, the wonderful companies who have continued to supply us and trades who have enabled us to prepare our new HQ during the restrictions, who have all gone 'above and beyond' to get us to this exciting point!
The CIRC Team
(14th September 2020)
---
Art Nouveau and Polka Dots!
Thank you to @loveallthingsquirky for this lovely photo of our Art Nouveau cast iron radiator with a polka dot back drop.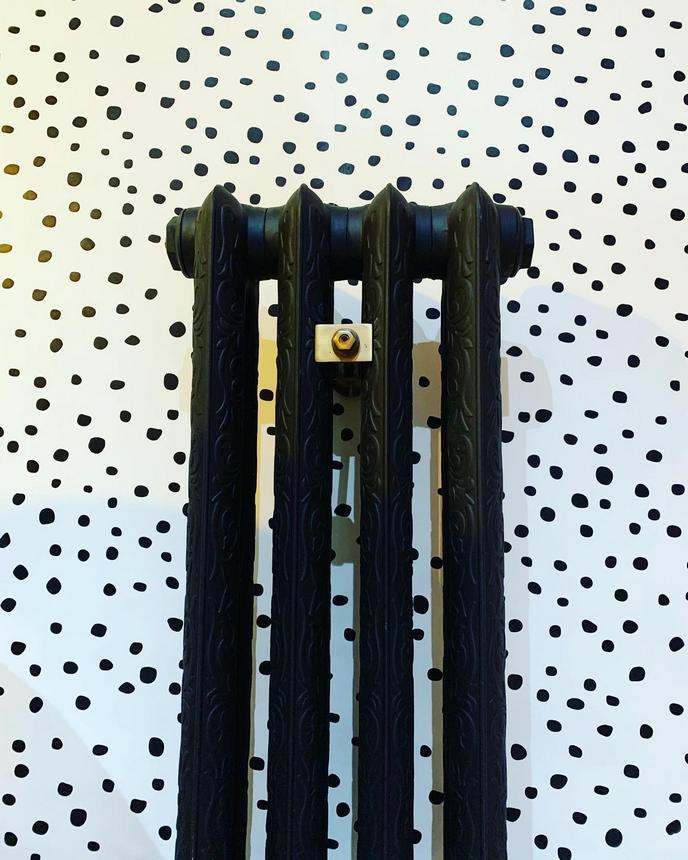 If you follow Nicola on her Instagram feed, you will know that her interior design vision is bright, with bold statement wall coverings and a fine eye for styling detail throughout her home renovation!
So well thought of as an interior stylist, Nicola was featured as a judge for 'The Under The Stairs Project' at @granddesignstv NEC last year! Quite an achievement, but we can see why. Well done Nicola!
(30th June 2020)
---
A BIG THANK YOU to all our customers...
Although there has been a relaxing with lock down guidelines over recent weeks, we continue to ensure that the safety of our staff remains our priority when at work.
At present, the majority of our staff remained furloughed as we cannot safely accommodate all back at work without compromising social distancing.
Several weeks ago, we started to increase our production slightly with the limited staff in available and began a daily sales quota system to control orders. This enabled us to increase the number of radiators we sell whilst at the same time continuing to offer excellent quality and lead times and most importantly, maintaining workplace safety for all.
We appreciate that demand continues to increase day by day and really welcome your patience when placing orders in view of the quota restrictions in place.
We know that this will be frustrating at times and it is not something we wish to continue with for the foreseeable future.
We are working towards increasing our daily quota numbers and thus to accommodate more customers with the main goal of getting back to full production as soon as we can safely.
We want to say a big thank you to you all for your continued interest and support and most of all your patience during these current times.
Kind regards,
The Cast Iron Radiator Centre
(15th June 2020)
---
Bright and Fresh...
Here is a beautiful picture of one of our Short Princess radiators in our most popular top coat finish – Gun Metal!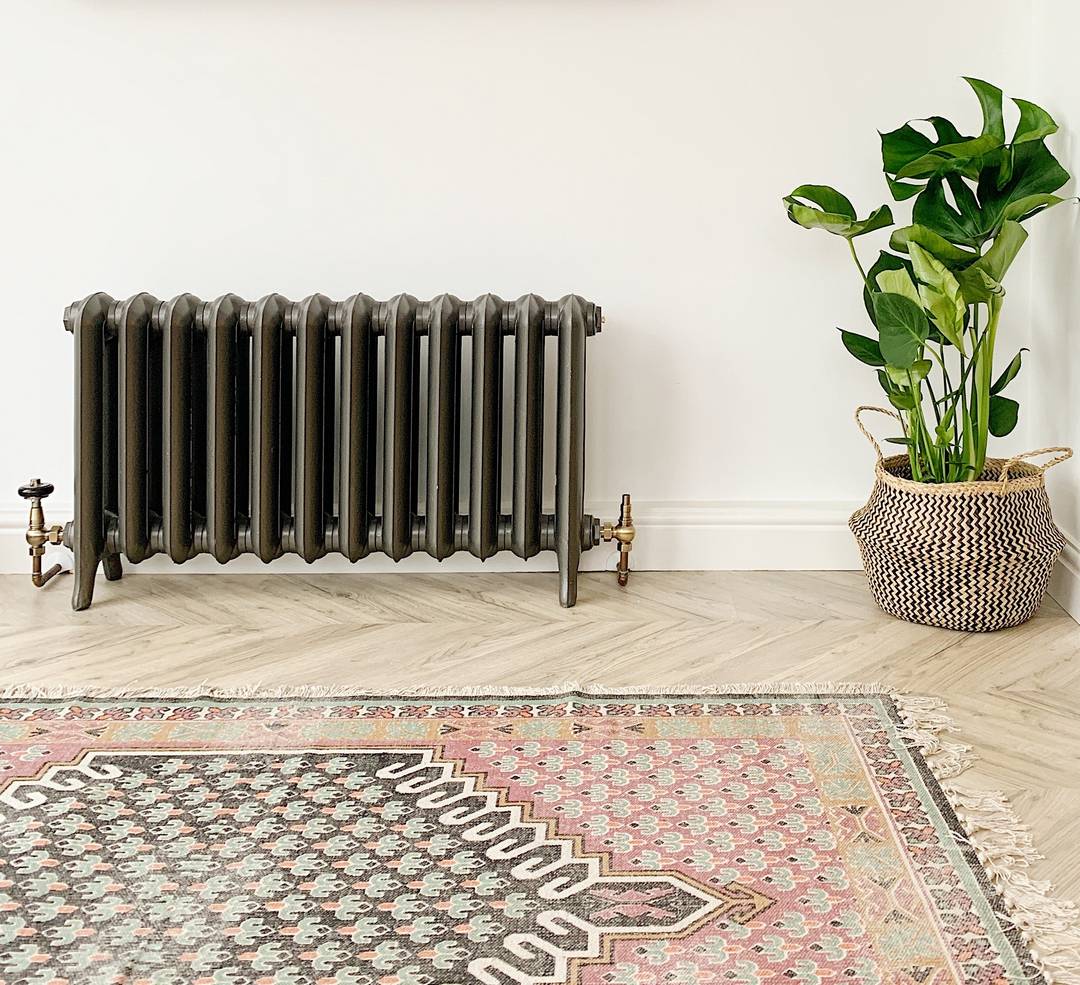 A very traditional cast iron radiator in terms of design and a style which fits easily into both traditional and contemporary homes.
We love the bright and fresh feel this image gives and hope you do too. Thank you @ninathomasstudio for the image. Please go and check out her beautiful personalised stationery and gifts on her Instagram feed. They are wonderful!
(22nd May 2020)
---
COVID-19 (Coronavirus) Update! 17th April 2020
WE ARE OPEN AND TAKING ORDERS ONLINE AS NORMAL!
Amidst these unusual times, here at The Cast Iron Radiator Centre, we feel it is very important to keep connected to our customers and provide support wherever we can.
The government outlined this week that every effort should be made across society to minimise social contact for a further three weeks in order to slow the spread of the virus.
As a company we continue to adopt this policy and this means we continue to have a slightly reduced production capacity so you may find normal services may take a little more time.
As we enter another week, our office staff continue working from home, and those producing your orders are keeping to the social distancing rules and following strict hygiene routines. The health and well-being of our families, colleagues, customers and the wider community is paramount to us, as ever.
WE ARE ANSWERING ALL EMAILS! Therefore, we would like to remind you to email via the website and we will respond promptly to your request.
As we are unable to take direct calls at present, we will use the answer phone to support this message.
Through all of this, we can assure you we remain focused on ensuring you will receive a quality product with the same unrivalled service, whenever you need it.
Stay safe and keep in touch!
(Please read below new items for additional information)
(17th April 2020)
---
Coronavirus update!
An Update of Ordering and Production
We have now fully re-assessed our working practices and in order to meet current guidelines on safe working and social distancing.
Therefore, our production facility where we build, pressure test, paint and despatch all our cast iron radiators will start to operate from Monday 6th April, but with a smaller number of staff and with increased safety measures in place for them.
Due to the measures that we have prioritised, lead times will need to be increased slightly to up to 7-10 working days to despatch, but we will always endeavour to complete them sooner if we can.
Also, the numbers of orders we will take per day in order to continue to work safely will be restricted.
Therefore, there may be times when you cannot place an order online on that particular day and therefore, you can and should try to place your order the following day.
We know that this is not ideal, but safety of our staff is paramount and these measures will ensure this whilst at the same time allowing us to service as many customers as possible during this time. Lastly, due to base material supplies being disrupted, we cannot currently offer the Linen White paint option in the short term and will re-introduce this as soon as we can.
Deliveries & Collections
We are still delivering radiators to the kerb by pallet as normal through our delivery partner Mobile PPL. Smaller items are still being delivered as usual thanks to our parcel delivery partner DPD and these will be despatched by us twice weekly on a Tuesday and Thursday on a next day service.
ALL collections will now need to be arranged for when we re-open to the public, or we can arrange deliveries. Please email us if you would like us to arrange this.
Returns
We understand that you might not be able to return goods to us in the usual time frames during this period. This is fine and it may be better to hold back and send your returns when our offices are open fully again and we can receive them.
We do appreciate that these are unprecedented times for all and we appreciate your continued understanding and support.
Please keep checking 'Importance Notice' tab on each page for our latest updates as the situation changes.
(6th April 2020)
---
Production update!
Further to our last update regarding the corona virus, we have taken the decision to suspend taking further orders for Cast Iron Radiators temporarily and concentrate on completing all existing orders we are committed to.
We will still offer our radiator valves, wall stays and other accessories for sale and will despatch any orders for these via DPD on Tuesdays and Thursdays.
This decision will be reviewed on a regular basis and updated as the current situation develops.
As our couriers and logistics partners come under increased pressure in terms of staffing, there may well be slight delays in getting existing orders delivered to you.
We have not taken this decision lightly, but it is one made with the well-being and safety of our employees in mind as well as in the best interests of our customers and suppliers in order to maintain safe social distancing as advised by the Government and Public Health England guidance.
Going forward, we will man our offices on a skeleton staff basis over the coming weeks and until further notice to answer emails and enquiries as quickly as possible.
These are uncertain times that we have not seen before, however, we are committed to ensuring the health and safety of our staff and make sure that our business is ready to serve new and existing customers when we are able to operate to full capacity when able to do so.
We apologise for any inconvenience caused and thank you for your understanding and continued support.
The CIRC Team
(23rd March 2020)
---
Production update!
With the coronavirus (COVID-19) situation changing daily, we believe it's important to be transparent about how The Cast Iron Radiator Centre (CIRC) is responding to the outbreak. Our philosophy as a business is to approach this situation with empathy and urgency; CIRC's top priority is the health and safety of our employees and other communities we have contact with including our customers, suppliers etc.
Given how rapidly the outbreak is evolving, we expect our approach to be re-assessed constantly to ensure the health and safety and the wellbeing of our employees and customers is maintained, whilst at the same time keeping any disruptions to a minimum.
Although we hold good stocks of cast iron radiator sections themselves in order to meet customer demand, as with any business, we also rely on various suppliers for ancillary supplies and services (e.g. packaging, paint, disposables, haulage, courier service etc) to meet our ongoing needs, which, although not currently affected, the supply of which may well be disrupted for short periods, due to supply chains/services being disrupted for reasons beyond our control.
If, due to the coronavirus, production is affected, we will inform our customers immediately, via our website and email where possible.
HOWEVER, that's enough gloom and doom! On a much more positive note, we continue to be busier than ever, we are still meeting our 5-7 working day lead time to despatch and we are currently operating at normal capacity and meeting all current deadlines for available cast iron radiators, valves and accessories.
If you have any questions regarding your order or the any of the above, please email us at support@castironradiatorcentre.co.uk
In the meantime, thank you for your continued support.
The CIRC Team
(11th March 2020)
---
Introducing @manwithahammer
Delighted to be assisting @manwithahammer on his latest renovation project by supplying him with some of our cast iron radiators, valves and accessories.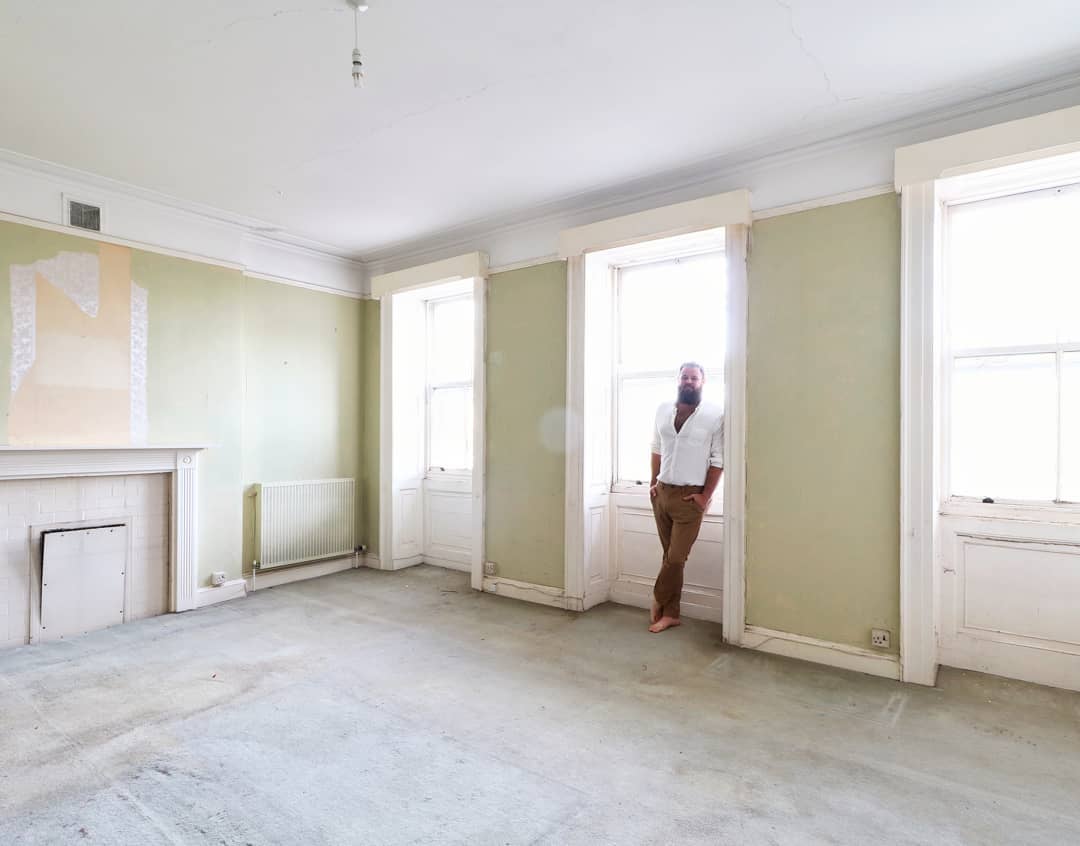 We have found @manwithahammer to be a great inspiration for people starting out, or who are already in the midst of an existing renovation project with his subtle, but clearly thought out design ideas.
We can certainly appreciate all the hard work he is putting into restoring this beautiful and historic building and bringing it back to life and now cannot wait to see how he will put his stamp on the Master Bedroom.
(12th February 2020)
---
Lead times update and pre-Christmas deliveries
Due to unprecedented demand for our cast iron radiators, our new lead times from order placed to despatch is now 10-12 working days. The last date that we will receive orders for pre-Christmas deliveries is Sunday 1st December. Any orders placed after this date cannot be guaranteed to be despatched prior to Christmas.
If you do not require your order until the New Year, please indicate this in the comments box at check out.
Please see our news feed and Facebook for updates on lead times in the run up to Christmas for any additional changes.
(19th November 2019)
---
Christmas Opening Hours
Our Christmas & New Year opening times are:
Last working day:
Fri 20th Dec 2019 – Open 8am-4:30pm
Closed:
Sat 21th to Wed 1st Jan 2020 – Closed for Christmas & New Year
Re-open:
From Thu 2nd Jan 2020 – Open 8am-5pm (as detailed here)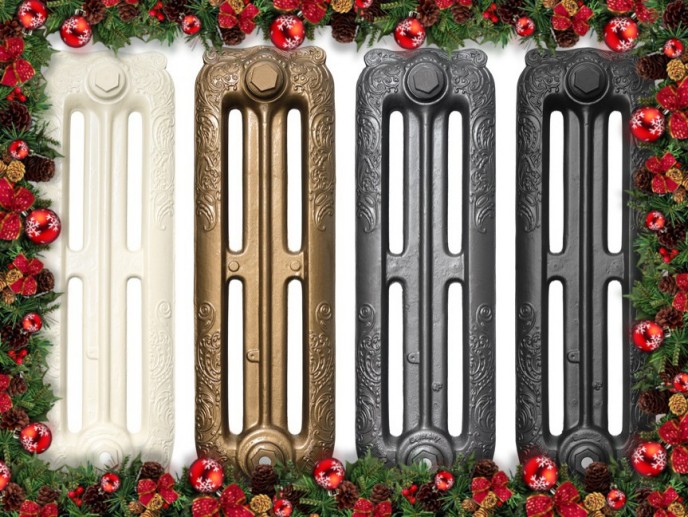 Thank you for your continued support and we hope that you have a restful and peaceful break. We look forward to seeing you in 2020, from us all at The Cast Iron Radiator Centre.
(12th November 2019)
---
Another notable inclusion – Observer Magazine!
We are delighted that our cast iron radiators featured in last Sunday's Observer Magazine in a wonderful article by Kate Lawson outlining a wonderful Victorian flat in Dalston, London belonging to designer Robert Storey of www.storeystudio.com.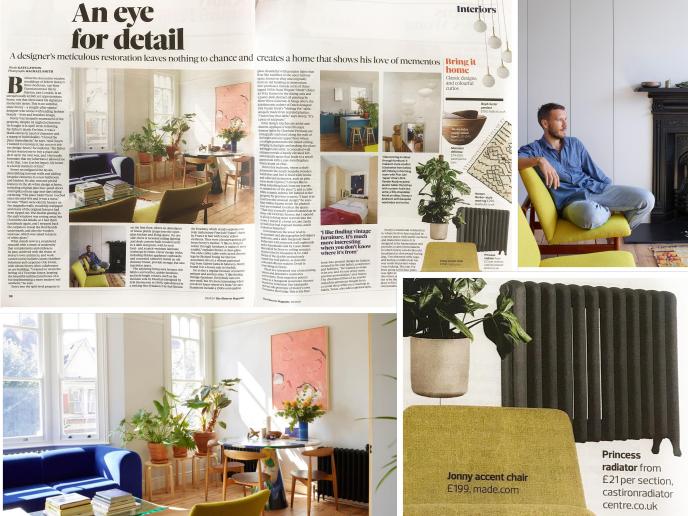 We think our cast iron radiators look fab in this bright top floor flat that was remodelled sympathetically and shows great fusion between period style and modern living.
(1st October 2019)
---
It's that BUSY time of year again!
It only seems 5 minutes since we last put out a similar message this time last year!
Now that the summer appears to have left us for another year, the children are back at school and all projects start to look at getting completed in time for Christmas, we have now well and truly hit our busy time of year again.
Our cast iron radiators are more in demand than ever before, but we are still sticking to a lead time of just 7-10 working days to despatch.
As we have mentioned before, we will always endeavour to beat our lead times or look to reduce them, but please don't wait to the last minute to order, speak to your builder or plumber to gauge when they will want the delivery in order that we can arrange delivery in plenty of time and meet your deadlines.
(25th September 2019)
---
New Instagram feature…introducing @loveallthingsquirky
Having been focused on reply, interacting and generally improving our presence on social media for our cast iron radiators on our Instagram account - @castironradiatorcentre - we have recently reached the 5000 follower milestone.
We're not sure we are becoming mainstream influencers, but certainly the pictures our followers are tagging us in are fabulous and allow customers to see how our cast iron radiators create statements in all types of buildings with all types of tastes.
On a regular basis we will try to highlight and share a follower whose images inspire us and showcase our radiators along with their vision.
@loveallthingsquirky is a wonderful account to start with! Based in the North East, Nicola is a talented individual who combines a serious role committed to supporting others along with her love for design. Nicola obviously has an exceptional eye for design detail with a 'quirky' twist as her account name suggests.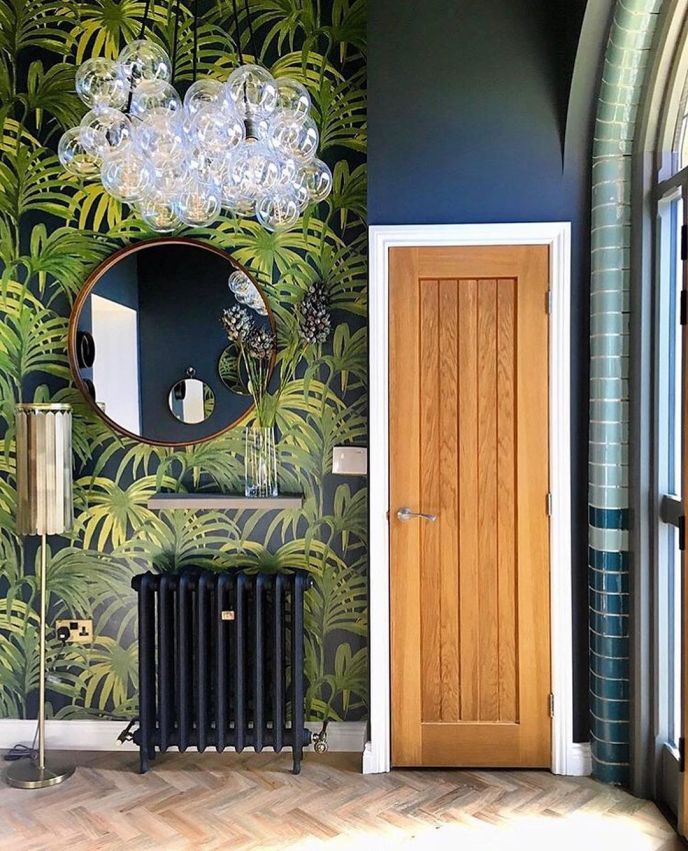 Nicola says: Since leaving school I followed my creativeness and studied a degree in fashion and illustration. Following this I mostly worked as a visual merchandiser for many years with high end retail stores. I then took a break from interiors and styling and went on to Study Occupational Therapy and for the last 13 years I have been a CBT Therapist in Secondary Mental Health Services. I've always been creative, lover of colour, pattern and design and all the finer details. These are so important it can either make or break a design project. I am always one step ahead planning my next project whether that be a revamp or a total renovation. Eventually I want to leave my main job in the NHS and pursue a career in design.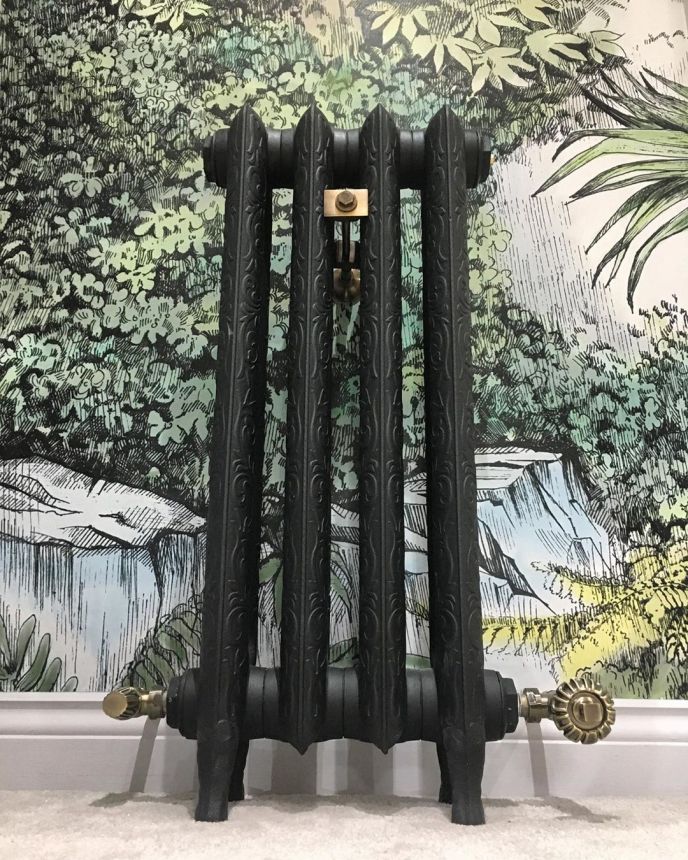 Many thanks to @loveallthingsquirky for these lovely photos.
(9th September 2019)
---
Stop the press...
Our Nostalgic Tradition Victorian 4 Column 760mm Cast Iron Radiator, as seen on pages 32 & 33 of the Sunday Mirror Notebook Magazine last weekend, will help you reminisce about the good times surrounded by family.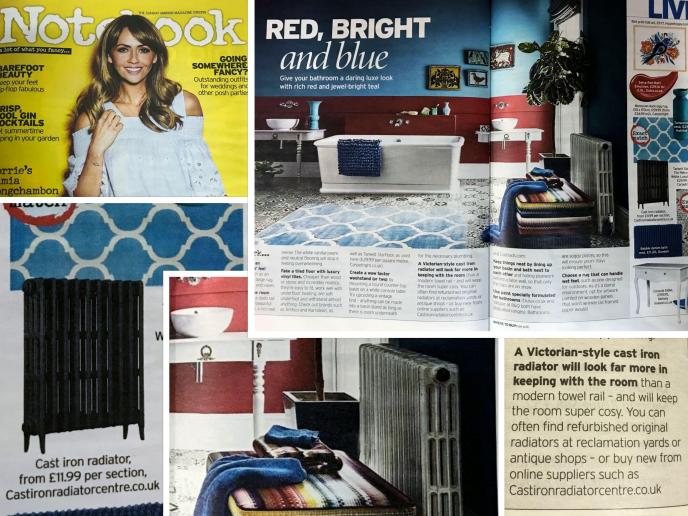 Now would be an ideal time to plan ahead and place an order for these in preparation for the colder months, and might be the best time to book a plumber than if you try later in the year when you need the heating the most.
Our current lead time from when the order is placed to despatch/collection date is 5-7 full working days, so don't delay and order today.
(11th July 2019)
---
Classic appeal to brighten a dreary day...
Here is one of our Traditional Four Column 460mm cast iron radiators in the simple matt black top coat finish and elegant Warwick TRV valves and Pipe Shrouds in the Antique Brass finish.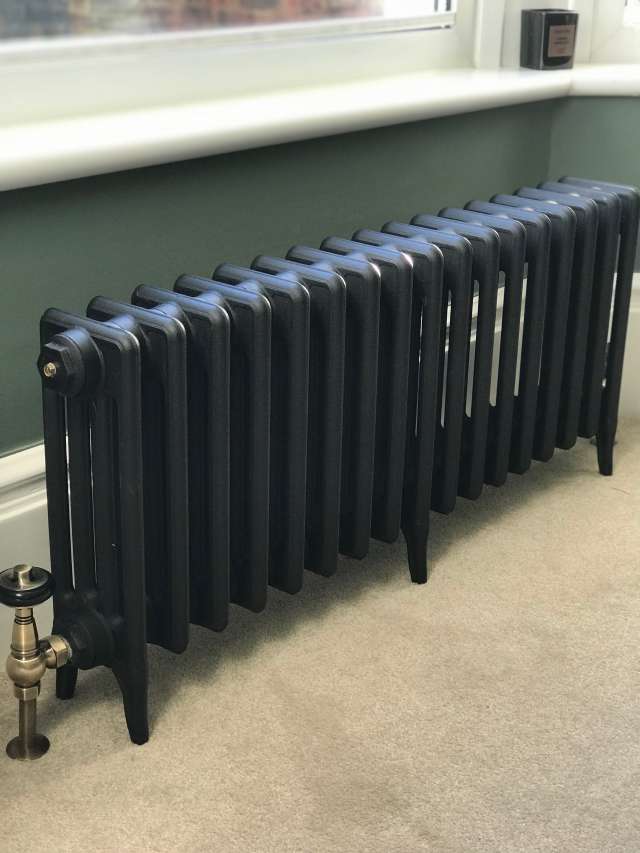 We know this is the height of summer, with the longest day quickly approaching this Friday and the last thing we should be thinking about is radiators!
However, we thought we would share this image just to show that sometimes things don't have to be expensive or complicated to get such a fantastic look and hopefully it cheers you up and gives you some inspiration on another wet day in June. 😊
(19th June 2019)
---