Very Happy Christmas & New Year
From us all at the Cast Iron Radiator Centre, we would like to wish all our customers a very Happy Christmas & New Year. Thank you once again for all your support over the past 12 months and we look forward to hearing from you in 2017!
(16th December 2016)
---
Pre-Christmas deliveries & Christmas opening times
Cast Iron Radiator Centre will close for the Christmas & New Year holidays on 23rd December 2016 and reopen for normal business on 3rd January 2017. For further details click here.
(11th November 2016)
---
Lead time changes
Due to the expected increase in sales at this time of year in the run up to Christmas we have extended our lead time from order placed to despatch to 10 - 12 working days. Obviously, we will always endeavour to beat these time frames if we can.
Please remember that if you require information regarding fitting your cast iron radiators or working out the pipe centres, please see our help page above where this information is available.
(18th October 2016)
---
Strike whilst the (cast) iron is hot!
Our current lead times for all radiator orders is now down to just 6 – 8 working days to despatch, our shortest time scales ever!
With the cooler months on the horizon, we don't expect to hold this lead time for too long, so take advantage of it whilst you can.
When placing your order our website will give you our current and most up-to-date lead times, both when picking you radiator and at checkout to help you plan.
(25th August 2016)
---
Faster cast iron radiator delivery
We have got our order to despatch lead time for all cast iron radiators ordered down to just 6 - 8 working days from 7 - 10 working days.
(27th July 2016)
---
Touch up paint now available
Listening to our customers' requests asking for handy and affordable touch up paint for our cast iron radiators, we have just taken delivery of the first batch of mini paint pots in our exclusive colours which also come with integral brushes.
Not only are these great for touching up those little marks following fitting, they are perfect for painting unfinished wall stays (SM stay & hooked stay).
(22nd July 2016)
---
Summer special offer
To mark one of the hottest days of the year so far, the Cast Iron Radiator Centre has marked this occasion with its own "Sizzling Offer" by reducing the 460mm Traditional Column Design down to just £8.99 + VAT per section for a limited time only.
So in order to not miss out make sure you get your orders in soon, as this offer won't be around forever!
(18th July 2016)
---
New paint curing facility
Cast Iron Radiator Centre has invested again and improved its radiator production facility by adding a new and improved area for curing all painted radiators.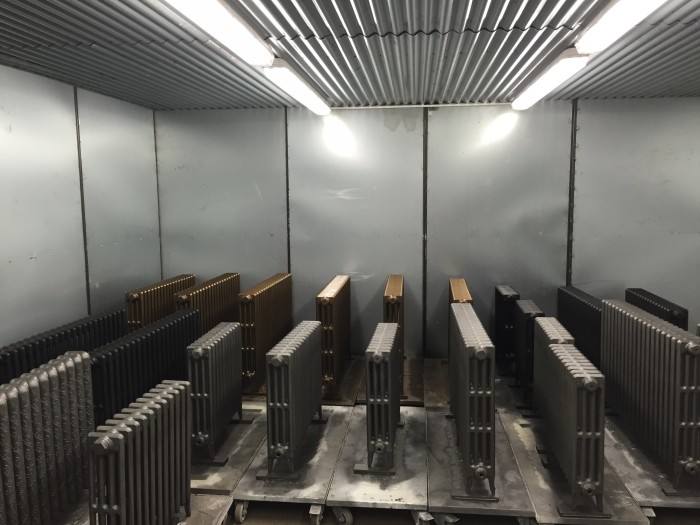 The area will ensure that all radiators will be held at the required temperature, free from contamination whilst the paint is allowed to cure correctly.
This may not appear too exciting to the laymen, but to our team, it means that they have even better facilities prepare your order as we continue to strive to provide that highest quality radiators at the very best prices.
This coupled with the new improved packaging materials and customer information will mean that your radiators should arrive in first class condition every time.'
(23rd June 2016)
---
Replacement bush ends & gaskets available to order
You can now purchase replacement bush ends & gaskets to match our cast iron radiators. These are ideal replacements if they have been lost or damaged.
Simply click here and choose the item, colour & quantity you require. We will ship them out to you via our courier service.
(10th May 2016)
---
Fitting guidelines & pipe centre advice
We've added useful guidelines for fitting our cast iron radiators and advice for calculating pipe centres & maximum radiator widths.
Radiator Fitting Guidelines
Calculating Pipe Centres & Maximum Width of Radiators

(20th April 2016)
---
Faster cast iron radiator delivery
We have got our order to despatch lead time for all cast iron radiators ordered down to just 7-10 working days from 12-14 working days.
(27th January 2016)
---
Cast iron radiator price match guarantee
We now offer a Cast Iron Radiator Price Match Guarantee on all our cast iron radiators against the prices of the same items sold by other retailers.
We are confident that all products we sell are not only excellent quality, but that our cast iron radiator prices are the most competitive.
In the unlikely event that you find a Cast Iron Radiator (not other products) of the same specification cheaper elsewhere, please do not hesitate to contact us directly on 0800 294 8603 or email us through the Contact page and we will look to match the price offered.
We will ask you to provide a copy of the formal quotation from the other retailer for the product in question to ensure.
If we can confirm that the standard price of the cast iron radiator(s) is less for the same item, we will not hesitate to match the competitor's price.
(14th August 2015)
---