A partnership of elegance!
Here we have a wonderful combination of rich coloured panelling and window shutters in this period home in Glasgow partnering with one of our Traditional 660mm four column cast iron radiators in the ever popular Gun Metal top coat and our Bentley Black Nickel TRV radiator valves & accessories.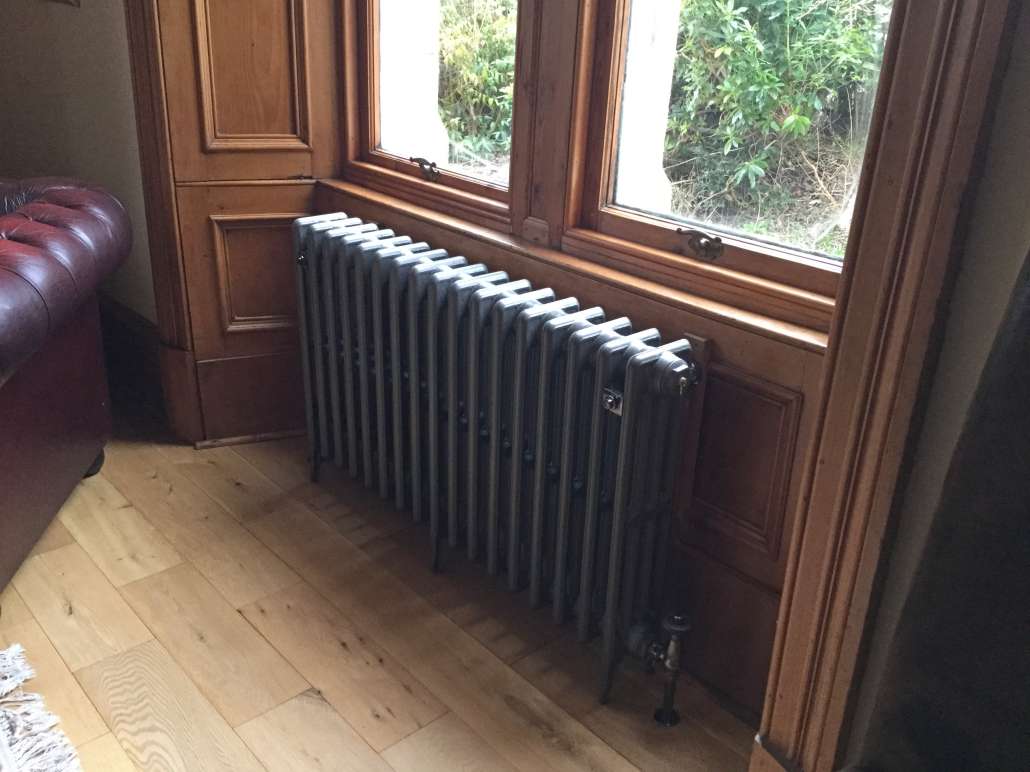 We believe our radiator complements the room without dominating the space and allowing the many striking period features in the room to show off!
Thank you Mr A.R. from Glasgow for the photo.
(18th May 2018)
---
Subtle Black & Greys!
When you are looking to make a statement, then our radiators really do hit the mark. Here is one of our traditional 3 column cast iron radiators looking fab as part of an extensive renovation project by a delighted customer of ours.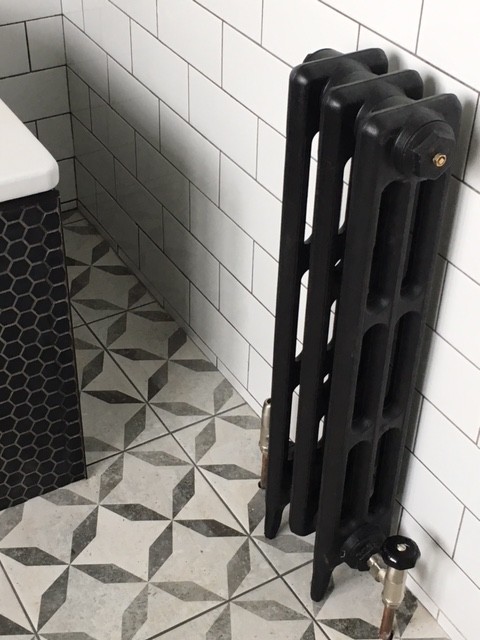 You can read her comments below and please follow her on Instagram @myrenovation_ to see what a great job she is doing.
"I am so happy with my Radiators ... I purchased 13 for a complete renovation project, in antique bronze, Matt black and satin black all equally fab!! I did a lot of research and this company was the most competitive. I can't rave enough about the radiators. Service was great and kept up to date at all stages ...love them!! My brother has also purchased on my recommendation"
Thanks again to L.R. from Essex for the photo and the kind comments.
Continued good luck with your project, it looks great!
(23rd April 2018)
---
Cast Iron Radiator Centre supply Wasps and England rugby star!
We are very proud to have supplied the Wasps & England lock Joe Launchbury (Instagram - @joe_launch) a beautiful Traditional Four Column 760mm cast iron radiator in our popular Gun Metal finish with matching valves and accessories.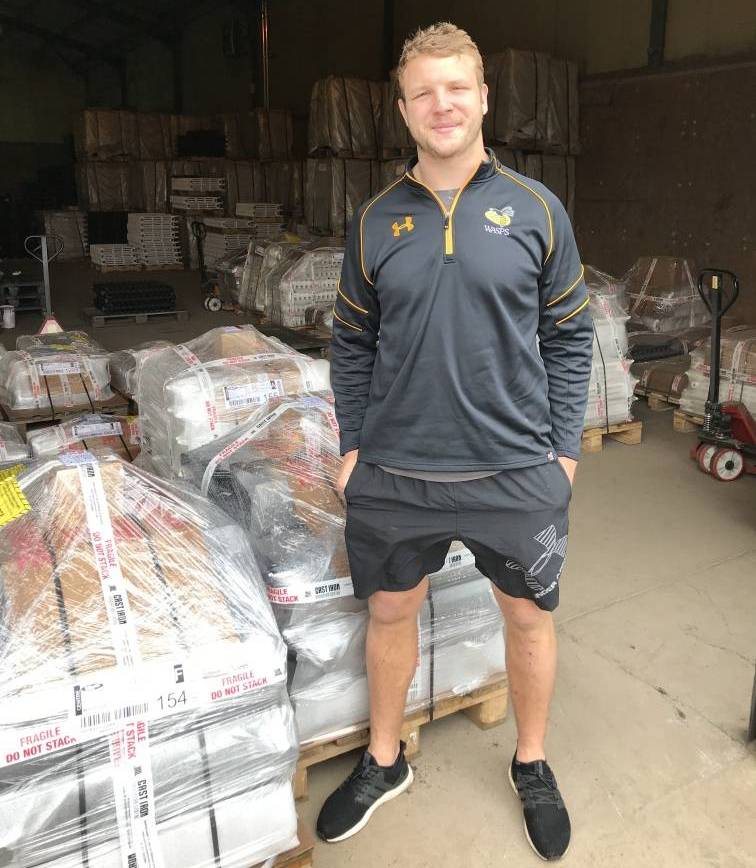 As you would imagine, Joe is a gentle giant; really friendly and polite. He was more than happy to take the time to chat and allow us to take a few photos. He also very kindly signed autographs for our children. They are going to be thrilled!
All this despite just coming from a hard training session!
Thank you Joe for your support and we hope you continue to enjoy your radiator for many years to come.
(13th April 2018)
---
Elegance personified!
This elegant bathroom redesign using our Traditional 3 column cast iron radiator in the Matt Black finish and the Bentley Traditional TRV valves in the 'on trend' Antique Copper finish really does complement the sultry blue used on the walls and skirting boards with the tiled floor.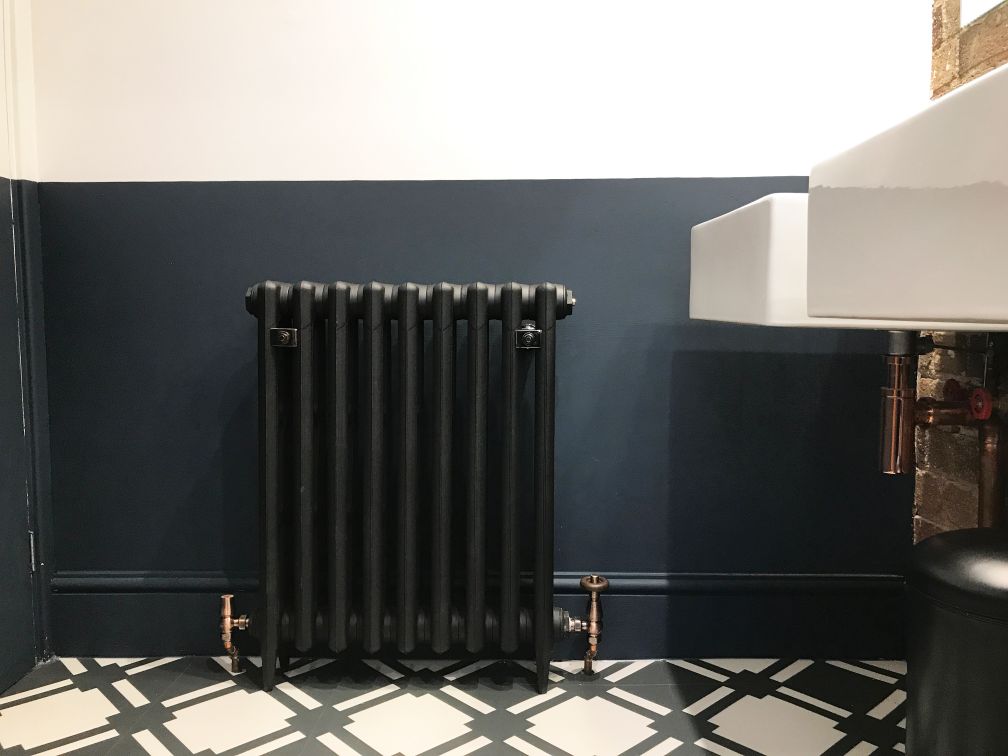 This is a clever mix of contemporary sanitary fittings with period features which works excellently allowing each element to make its own statement.
We are very grateful to Joel of Joel LaRosa Design Ltd, an independent kitchen and bathroom design specialist based in Leicester.
(6th April 2018)
---
Simple lines – Timeless design!
We have been supplied a wonderful photo of one of our Short Princess style radiators with 17 sections. That's as long as we can supply this radiator fully assembled.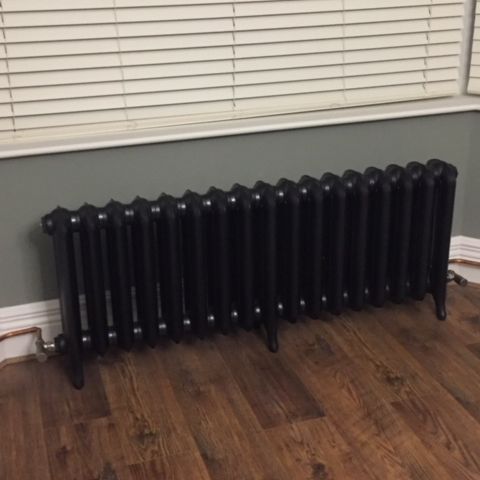 The simple lines of this radiator's design make it very popular in any property, from traditional country homes through to modern contemporary apartments in the city.
It's flexibility means it is always one of the popular styles we sell.
Many thanks to Mrs RG in Norfolk for the photo.
(19th March 2018)
---
This oversize traditional radiator makes a great feature!
We are often asked for extra-long radiators to fit existing pipe work or to look in proportion to a space under a window for example.
We are restricted due to overall weight or lengths of each style, but more and more often, customers are buying a radiator assembly tool from us with associated assembly instructions for them to build the required radiator on site in three or four pre-assembled parts.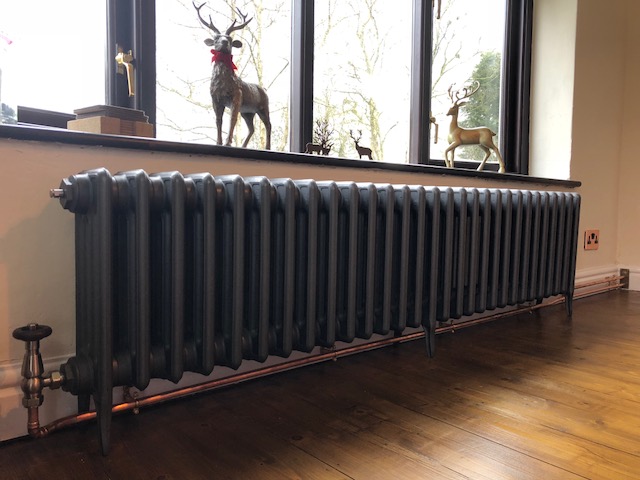 In this case, our customer needed a 29 section radiator to sit under this extra-long window with low sill.
We supplied the traditional four column 460mm radiator pre-painted in Gunmetal Grey in 3 parts, a 23 section and two 3 sections which our customer simply put together on site using our printed instructions.
We think you will agree it makes a great statement.
Thank you to Mr D from Worcestershire for the images.
(8th March 2018)
---