Summer Sale proving a great success!
We have received a new delivery today, the third of which in the last 6 weeks. This has now been unloaded, checked and is straight into the production process to meet the high demands for cast iron radiators we are currently seeing.
This new delivery incorporates all styles from the popular Traditional 4 column design to the ornate Ascot and Balmoral radiators which have the 'WOW' factor.
With the Summer Sale proving really popular we now have plenty of stock to fulfil many more orders so please don't miss this great opportunity.
(28th June 2017)
---
Dispatched lead times slashed
Our production team have been working hard to ensure customers receive their cast iron radiators as soon as possible and have now got our order to dispatch lead time for all cast iron radiators ordered down to just 7 - 9 working days from 10 - 12 working days.
(26th April 2017)
---
Our commitment to quality
In our commitment to ensuring we provide the best quality at all times, we can confirm that ALL our cast iron radiators are fully CE Certified and meet British Standards BS EN 442-1 & BS EN 442-2.
We are very proud of what we have achieved and we make sure that the Cast Iron Radiator Centre remains at the forefront when it comes to ensuring all our customers, both commercial and residential, receive the best standards in terms of quality products and service at all times.
(1st March 2017)
---
Mobile telephone number and new courier
Following a strong start to 2017 and despite high volumes of orders being placed, we continue to despatch our cast iron radiators in the quoted 10-12 working days from when order placed.
In order to prevent unnecessary delays with the delivery of cast iron radiators due to not being able to leave voicemail messages etc., please ensure that you provide a mobile telephone number when placing your order.
This will not only ensure that our pallet delivery partner can contact you more easily, but with valves and accessory orders being shipped by our new courier (DPD), you will be able to take control of your parcel deliveries more easily and get these delivered when and where you want from your smart phone.
(17th February 2017)
---
Very Happy Christmas & New Year
From us all at the Cast Iron Radiator Centre, we would like to wish all our customers a very Happy Christmas & New Year. Thank you once again for all your support over the past 12 months and we look forward to hearing from you in 2017!
(16th December 2016)
---
Pre-Christmas deliveries & Christmas opening times
Cast Iron Radiator Centre will close for the Christmas & New Year holidays on 23rd December 2016 and reopen for normal business on 3rd January 2017.
For further details click here.
(11th November 2016)
---
Lead time changes
Due to the expected increase in sales at this time of year in the run up to Christmas we have extended our lead time from order placed to despatch to 10 - 12 working days. Obviously, we will always endeavour to beat these time frames if we can.
Please remember that if you require information regarding fitting your cast iron radiators or working out the pipe centres, please see our help page above where this information is available.
(18th October 2016)
---
Strike whilst the (cast) iron is hot!
Our current lead times for all radiator orders is now down to just 6 – 8 working days to despatch, our shortest time scales ever!
With the cooler months on the horizon, we don't expect to hold this lead time for too long, so take advantage of it whilst you can.
When placing your order our website will give you our current and most up-to-date lead times, both when picking you radiator and at checkout to help you plan.
(25th August 2016)
---
Faster cast iron radiator delivery
We have got our order to despatch lead time for all cast iron radiators ordered down to just 6 - 8 working days from 7 - 10 working days.
(27th July 2016)
---
Touch up paint now available
Listening to our customers' requests asking for handy and affordable touch up paint for our cast iron radiators, we have just taken delivery of the first batch of mini paint pots in our exclusive colours which also come with integral brushes.
Not only are these great for touching up those little marks following fitting, they are perfect for painting unfinished wall stays (SM stay & hooked stay).
(22nd July 2016)
---
Summer special offer
To mark one of the hottest days of the year so far, the Cast Iron Radiator Centre has marked this occasion with its own "Sizzling Offer" by reducing the 460mm Traditional Column Design down to just £8.99 + VAT per section for a limited time only.
So in order to not miss out make sure you get your orders in soon, as this offer won't be around forever!
(18th July 2016)
---
New paint curing facility
Cast Iron Radiator Centre has invested again and improved its radiator production facility by adding a new and improved area for curing all painted radiators.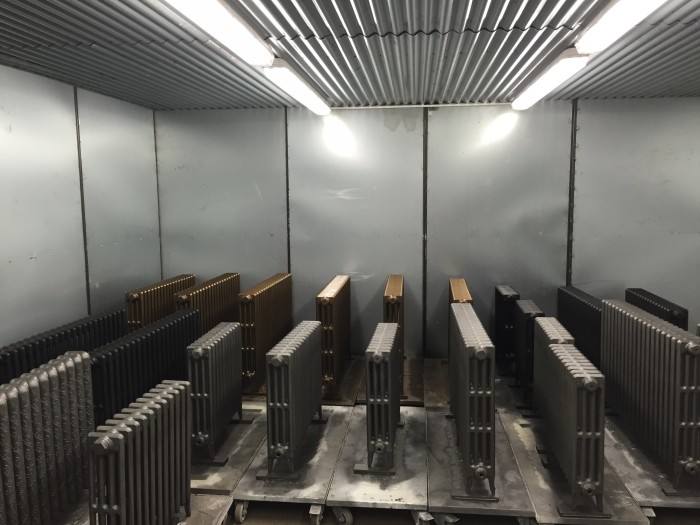 The area will ensure that all radiators will be held at the required temperature, free from contamination whilst the paint is allowed to cure correctly.
This may not appear too exciting to the laymen, but to our team, it means that they have even better facilities prepare your order as we continue to strive to provide that highest quality radiators at the very best prices.
This coupled with the new improved packaging materials and customer information will mean that your radiators should arrive in first class condition every time.'
(23rd June 2016)
---
Replacement bush ends & gaskets available to order
You can now purchase replacement bush ends & gaskets to match our cast iron radiators. These are ideal replacements if they have been lost or damaged.
Simply click here and choose the item, colour & quantity you require. We will ship them out to you via our courier service.
(10th May 2016)
---
Fitting guidelines & pipe centre advice
We've added useful guidelines for fitting our cast iron radiators and advice for calculating pipe centres & maximum radiator widths.
Radiator Fitting Guidelines
Calculating Pipe Centres & Maximum Width of Radiators

(20th April 2016)
---
Faster cast iron radiator delivery
We have got our order to despatch lead time for all cast iron radiators ordered down to just 7-10 working days from 12-14 working days.
(27th January 2016)
---
Cast iron radiator price match guarantee
We now offer a Cast Iron Radiator Price Match Guarantee on all our cast iron radiators against the prices of the same items sold by other retailers.
We are confident that all products we sell are not only excellent quality, but that our cast iron radiator prices are the most competitive.
In the unlikely event that you find a Cast Iron Radiator (not other products) of the same specification cheaper elsewhere, please do not hesitate to contact us directly on 0800 294 8603 or email us through the Contact page and we will look to match the price offered.
We will ask you to provide a copy of the formal quotation from the other retailer for the product in question to ensure.
If we can confirm that the standard price of the cast iron radiator(s) is less for the same item, we will not hesitate to match the competitor's price.
(14th August 2015)
---
Our Cast Iron Radiators Chosen for Concorde House
Cast Iron Radiator Centre were invited to supply cast iron radiators to an exclusive contemporary development in the heart of Birmingham city centre.
Cast Iron Radiator Centre were approached by the Elevate Property Group to supply vintage style Princess cast iron radiators and accessories, having been let down by another supplier at the last moment.
Concorde House is stunning conversion of an old 1930's warehouse in the city centre which has been brought back to life by being re-engineered & extensively refurbished.
Concorde House will consist of 15 loft style apartments and penthouses with roof terraces.
Each apartment has been carefully designed to offer a modern industrial feel giving the building a bright future in a vibrant area of the city.
The development boasts a blend of both original features and contemporary signature pieces give an aesthetic industrial grit and refinement.
The Cast Iron Radiator Centre is very please to play a small, but significant part in this stunning project.
(3rd July 2015)
---
ELLE Decoration
Cast Iron Radiator Centre is delighted to have been included in the latest edition of ELLE Decoration Secret Address directory. We are very happy, that after launching our new website just 6 months ago, we have been singled out as a trusted supplier of cast iron radiators across the UK & Europe. Click here to see the entry.
ELLE Decoration is where style lives. It is the ultimate guide to decorating and design and the indispensable go-to source for everyone who wants to create a more beautiful life. Being acknowledged by such a prestigious interior design magazine is a real bonus & rewards all the hard work we put into supplying great cast iron radiators at fantastic prices.
(20th March 2015)
---
Traditional Radiator & Victorian Radiator Ranges Updated
The Cast Iron Radiator Centre is delighted to have improved our range of Victorian radiators, Traditional & Old Fashioned radiators, Vintage radiators, Old Style school radiators, and Period radiators.
(13th March 2015)
---
Website Improvements
We've made some improvements to our cast iron radiator website to make the buying process even easier.
PayPal Express Checkout has been added to allow checkout without having to enter address details.
A 5% discount voucher is now automatically applied when purchasing radiators with total value of £2,000 or more.
An "Email basket" button has been added to the basket page to allow you to email the basket to yourself or a friend. The basket can be restored at any time by clicking the "Restore basket" button in the email.
(2nd March 2015)
---
The Autumn/Winter Season
The Autumn/Winter season has seen bumper sales for our cast iron radiators and accessories despite the warmer than average temperatures up to the end of October. Obviously, offering great value for money is key to many customers on tight budgets.
We are still taking orders for pre-Christmas delivery up to 7th December and this is despite a big spike in orders over the last few weeks. Our radiator department are working hard to meet everyone's requirements to ensure a warm and cosy Christmas.
(5th December 2014)
---
Cast Iron Radiators Centre
Launch of our new bespoke cast iron radiator website.
(12th September 2014)
---
Our traditional radiators chosen for major Reading loft development
Due to their timeless industrial style, our traditional radiators have been chosen for a stunning collection of 14 New York loft style apartments and penthouses in Reading town centre.
(12th August 2014)
---
Our Cast Iron Radiators Cast In RSC's Production of Hamlet
Showing the broad appeal of our cast iron radiators, we recently supplied some of these to the Royal Shakespeare Company (RSC) for use in their production of Hamlet.
(9th July 2014)
---
Cast Iron Radiators - Keeping JD Wetherspoon customers warm and cosy
For the past few years, through our relationship with several successful plumbing and mechanical service companies, we have been supplying its popular cast iron radiators to the JD WETHERSPOON Pub Chain.
As one of the the few companies bucking the 'gloom & doom' of the last few years, JD WETHERSPOON have stuck to an extensive programme which will look to open 250 new pubs over a five year period. This just proves that despite what the media say, we still need a great local pub to meet with friends to cheer us up.
We have supplied cast radiators to many of their pubs and new hotels all over England and Scotland in a variety of heights, widths and styles, but all exude the charm of a bygone era.
Whether we are supplying cast radiators to large pub chains or to individuals, we understand that all have tight deadlines to meet and budgets to stick to.
This however, does come with its own challenges. At Cast Iron Radiator Centre our focus on great customer service along with excellent communication with every customer, means that we are always endeavouring to be one step ahead in case we have to iron out any logistical issues or last minute changes our customers have, in order to keep every project on time and within budget.
(1st July 2014)
---