The House that Black Built!
Courtesy of @thehousethatblackbuilt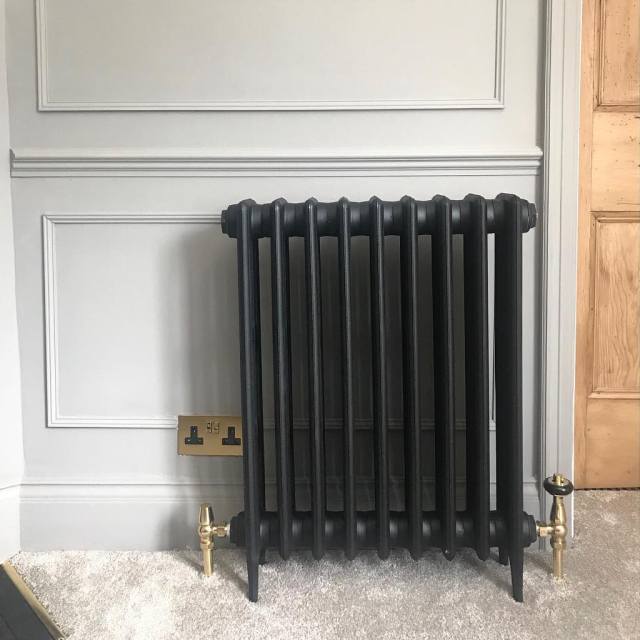 Who said black is the new black? Well, the wonderful Chelsea Stonier is a definite convert looking at her great insta account journey showing the renovation of her Victorian house.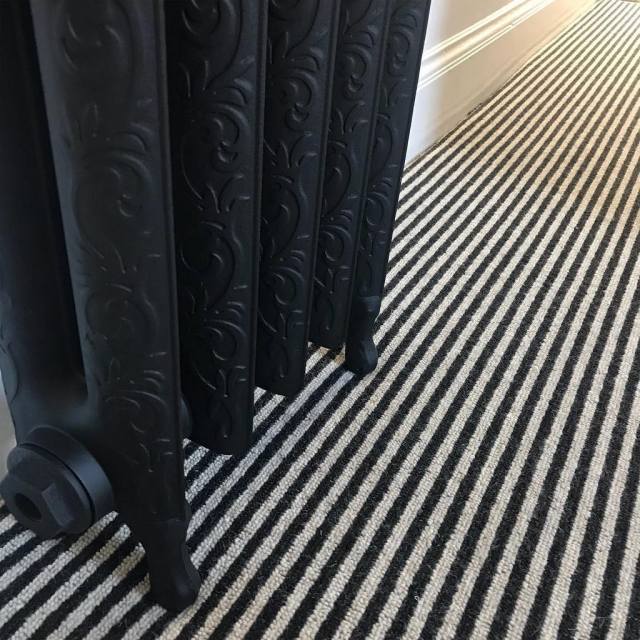 Our Art Nouveau decorative cast iron radiators seem to have fitted in well in their matt black topcoat finish.
If you are looking for some seriously style ideas for your property, then @thehousethatblackbuilt is a great starting point we think.
(29th June 2018)
---
Summer's here, so please make the most of it!
Now that we have all started to see temperatures rising and even a few days of sunshine, you would think that the last thing people are thinking about is their heating.
Not here at The Cast Iron Radiator Centre! Our order books remain strong for our cast iron radiators and we continue to be extremely busy getting our customers' traditional cast iron radiators orders ready. This picture just shows some of our cast radiators which are curing waiting to be wrapped and despatched today, with lots more to follow.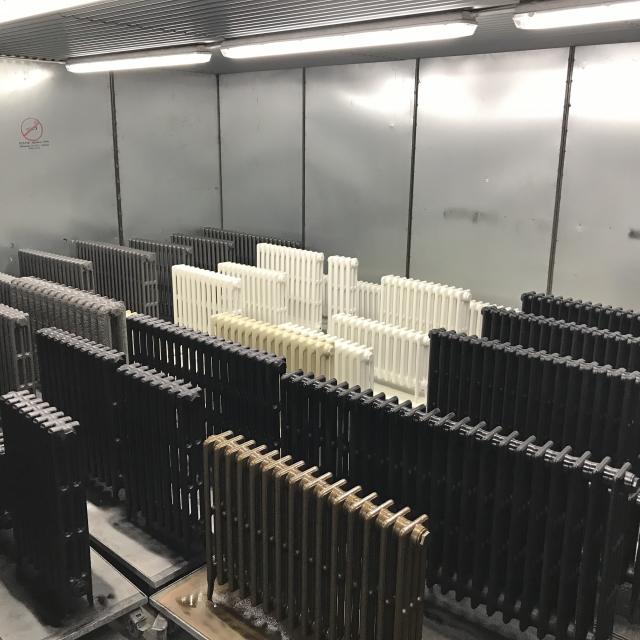 However, those in the know realise that the summertime is the best time to look to change or update your radiators. Why? Well obviously, whilst the milder weather is with us, the need to use your heating is reduced dramatically, so if you need to be without it for a day or even a few days, it's all manageable and you won't get too chilly!
If you wait to the autumn or winter months, then even a day sometimes without heating can make a dramatic difference to not only keeping your home cosy, but also your general mood. There's no real fun in being cold inside now is there?
We know that some of you won't have a choice as the work to be done will be dictated by the overall timings of your project or just simply finances, but if you can, start planning now to get the work done. You might even find it easier to book a plumber than if you try in the depths of November or December, though they always appear busy when you call we know.
(14th June 2018)
---
A picture window in the city!
Here is one of our classic Tall Princess cast iron radiators with Chrome Wall Stays featuring in this wonderful bathroom with a fantastic view.
This radiator is happy to play a supporting role and not dominate the room.
We think you'll agree this all looks very relaxing!
Many thanks to J.K. from South London for the photo.
(4th June 2018)
---
A partnership of elegance!
Here we have a wonderful combination of rich coloured panelling and window shutters in this period home in Glasgow partnering with one of our Traditional 660mm four column cast iron radiators in the ever popular Gun Metal top coat and our Bentley Black Nickel TRV radiator valves & accessories.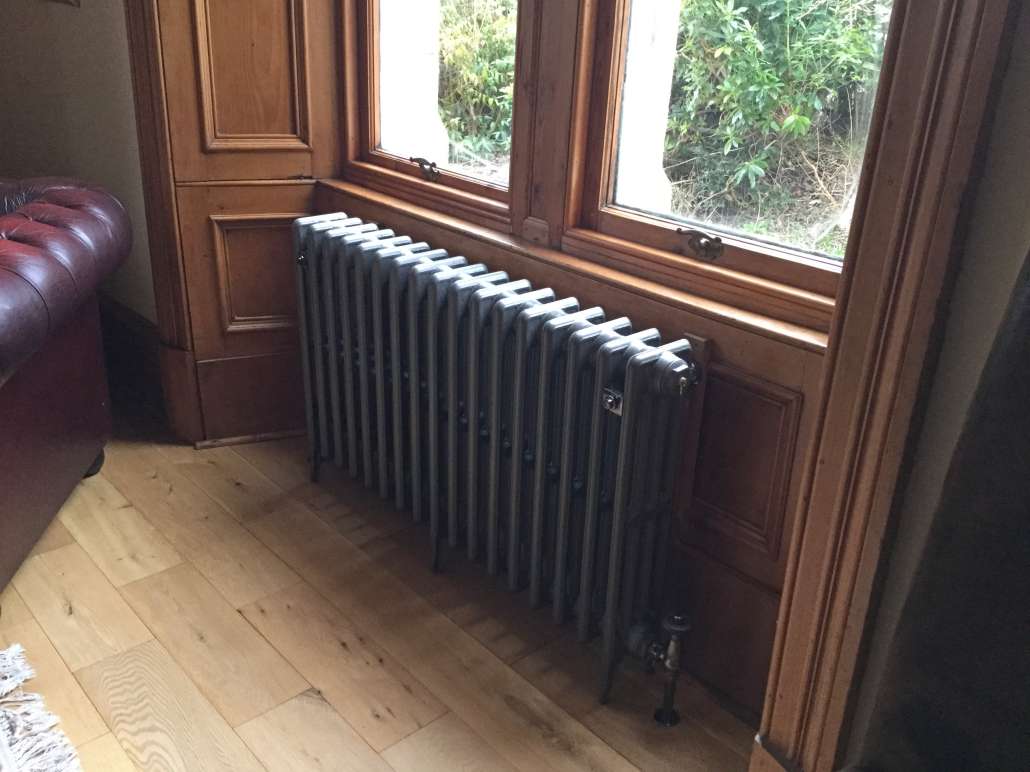 We believe our radiator complements the room without dominating the space and allowing the many striking period features in the room to show off!
Thank you Mr A.R. from Glasgow for the photo.
(18th May 2018)
---
Subtle Black & Greys!
When you are looking to make a statement, then our radiators really do hit the mark. Here is one of our traditional 3 column cast iron radiators looking fab as part of an extensive renovation project by a delighted customer of ours.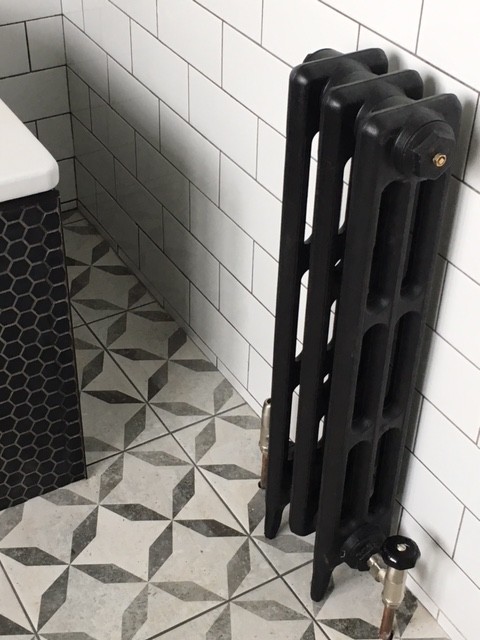 You can read her comments below and please follow her on Instagram @myrenovation_ to see what a great job she is doing.
"I am so happy with my Radiators ... I purchased 13 for a complete renovation project, in antique bronze, Matt black and satin black all equally fab!! I did a lot of research and this company was the most competitive. I can't rave enough about the radiators. Service was great and kept up to date at all stages ...love them!! My brother has also purchased on my recommendation"
Thanks again to L.R. from Essex for the photo and the kind comments.
Continued good luck with your project, it looks great!
(23rd April 2018)
---
Cast Iron Radiator Centre supply Wasps and England rugby star!
We are very proud to have supplied the Wasps & England lock Joe Launchbury (Instagram - @joe_launch) a beautiful Traditional Four Column 760mm cast iron radiator in our popular Gun Metal finish with matching valves and accessories.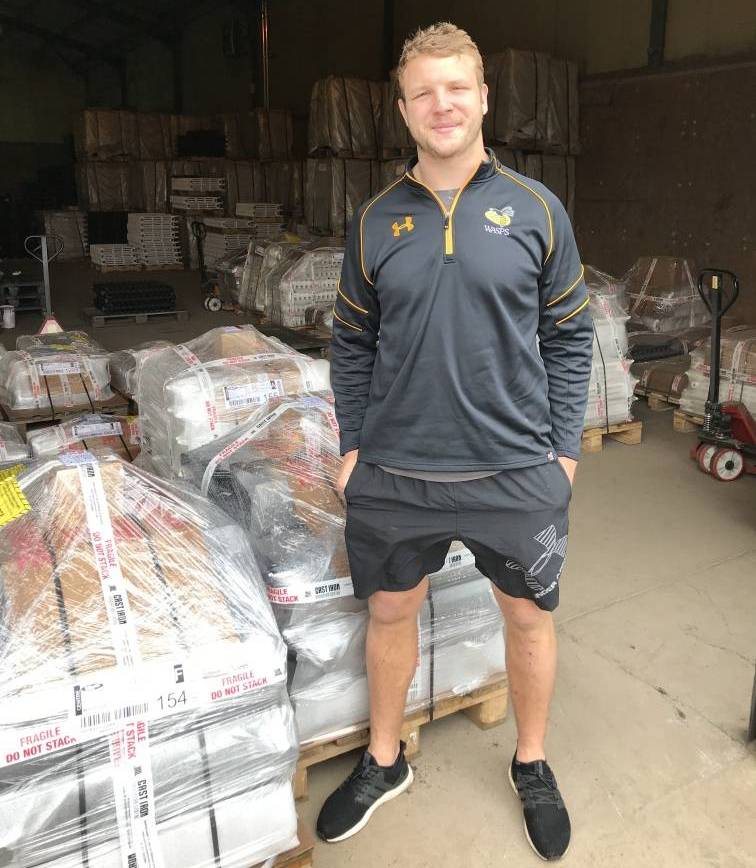 As you would imagine, Joe is a gentle giant; really friendly and polite. He was more than happy to take the time to chat and allow us to take a few photos. He also very kindly signed autographs for our children. They are going to be thrilled!
All this despite just coming from a hard training session!
Thank you Joe for your support and we hope you continue to enjoy your radiator for many years to come.
(13th April 2018)
---
Elegance personified!
This elegant bathroom redesign using our Traditional 3 column cast iron radiator in the Matt Black finish and the Bentley Traditional TRV valves in the 'on trend' Antique Copper finish really does complement the sultry blue used on the walls and skirting boards with the tiled floor.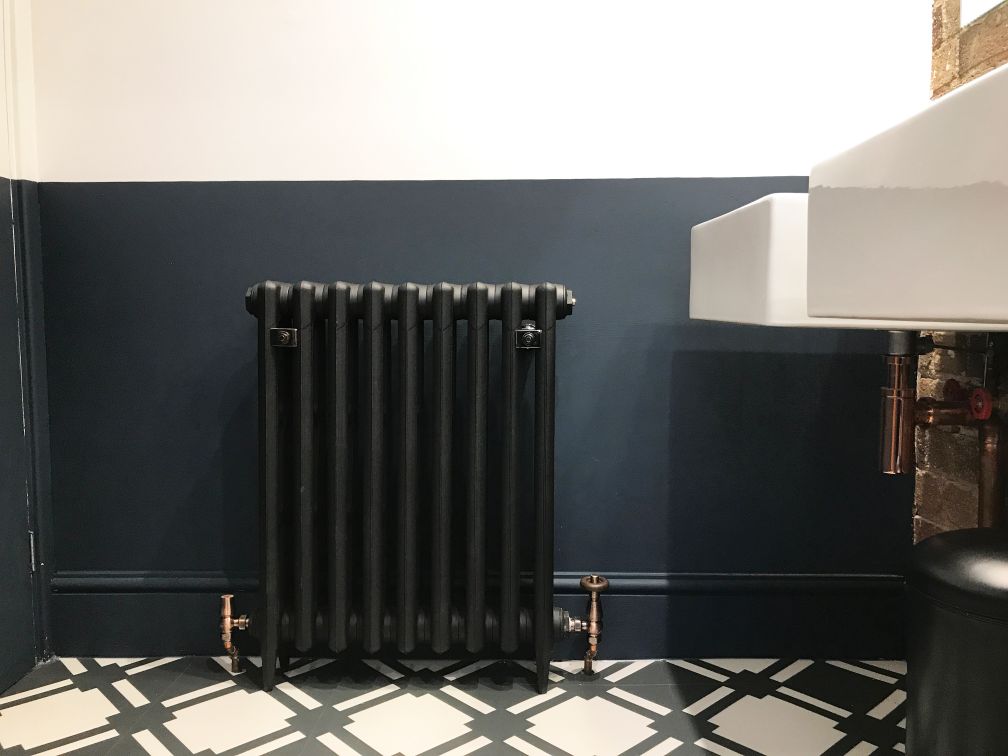 This is a clever mix of contemporary sanitary fittings with period features which works excellently allowing each element to make its own statement.
We are very grateful to Joel of Joel LaRosa Design Ltd, an independent kitchen and bathroom design specialist based in Leicester.
(6th April 2018)
---
Simple lines – Timeless design!
We have been supplied a wonderful photo of one of our Short Princess style radiators with 17 sections. That's as long as we can supply this radiator fully assembled.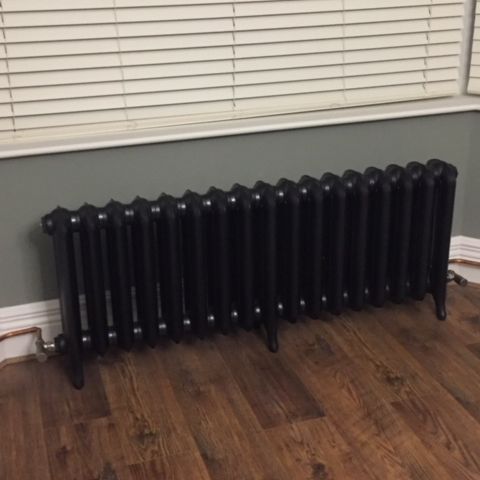 The simple lines of this radiator's design make it very popular in any property, from traditional country homes through to modern contemporary apartments in the city.
It's flexibility means it is always one of the popular styles we sell.
Many thanks to Mrs RG in Norfolk for the photo.
(19th March 2018)
---
This oversize traditional radiator makes a great feature!
We are often asked for extra-long radiators to fit existing pipe work or to look in proportion to a space under a window for example.
We are restricted due to overall weight or lengths of each style, but more and more often, customers are buying a radiator assembly tool from us with associated assembly instructions for them to build the required radiator on site in three or four pre-assembled parts.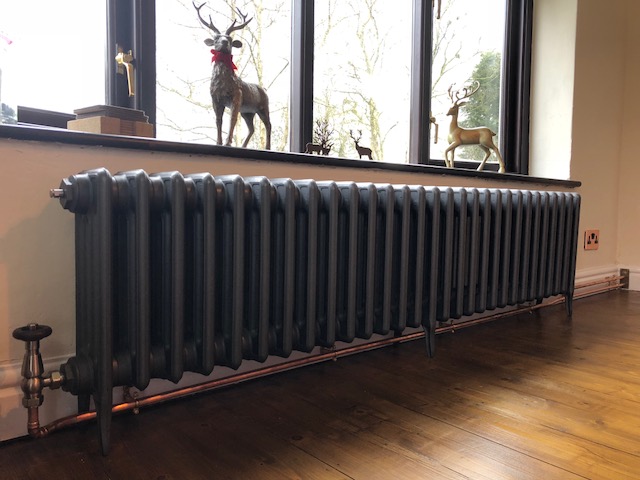 In this case, our customer needed a 29 section radiator to sit under this extra-long window with low sill.
We supplied the traditional four column 460mm radiator pre-painted in Gunmetal Grey in 3 parts, a 23 section and two 3 sections which our customer simply put together on site using our printed instructions.
We think you will agree it makes a great statement.
Thank you to Mr D from Worcestershire for the images.
(8th March 2018)
---
All radiator orders despatched within 7 working days!
As mentioned at the end of January in the 'News column', our fantastic production team have worked tirelessly over the last few months to get our lead times down to the shortest time for our customers.
Now they have succeeded in getting the lead time from when you order your cast iron radiators to when we despatch them down to within 7 working days.
Subtle changes in our production techniques, forward planning and sheer hard work on their part means that they are now able to produce your traditional radiators, without compromising quality, even quicker.
Therefore, this is a big thank you to the production team for all their efforts and a big thank you also to our customers for your continued support.
(27th February 2018)
---
Stunning shower room!
These photos were supplied by our customer showing the wonderful combination of designs and materials from the natural beams and solid oak cottage door with the limestone flooring.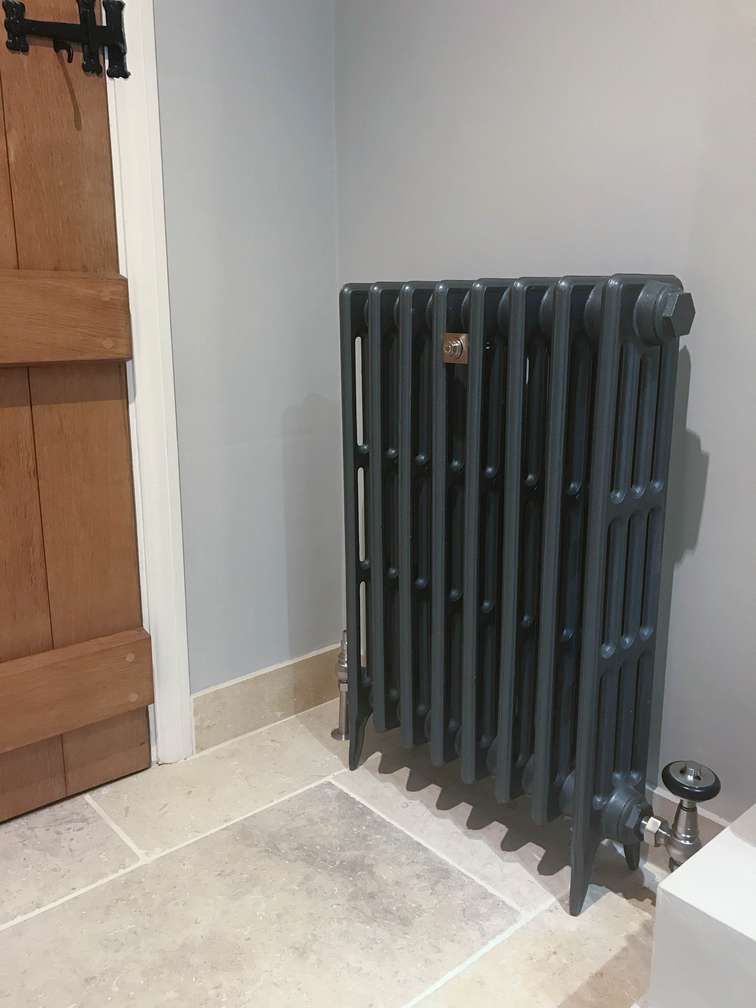 Our 760mm Traditional 4 column radiator in Gun Metal Grey not only heats this beautiful room, but just as importantly, makes a great feature without dominating the space.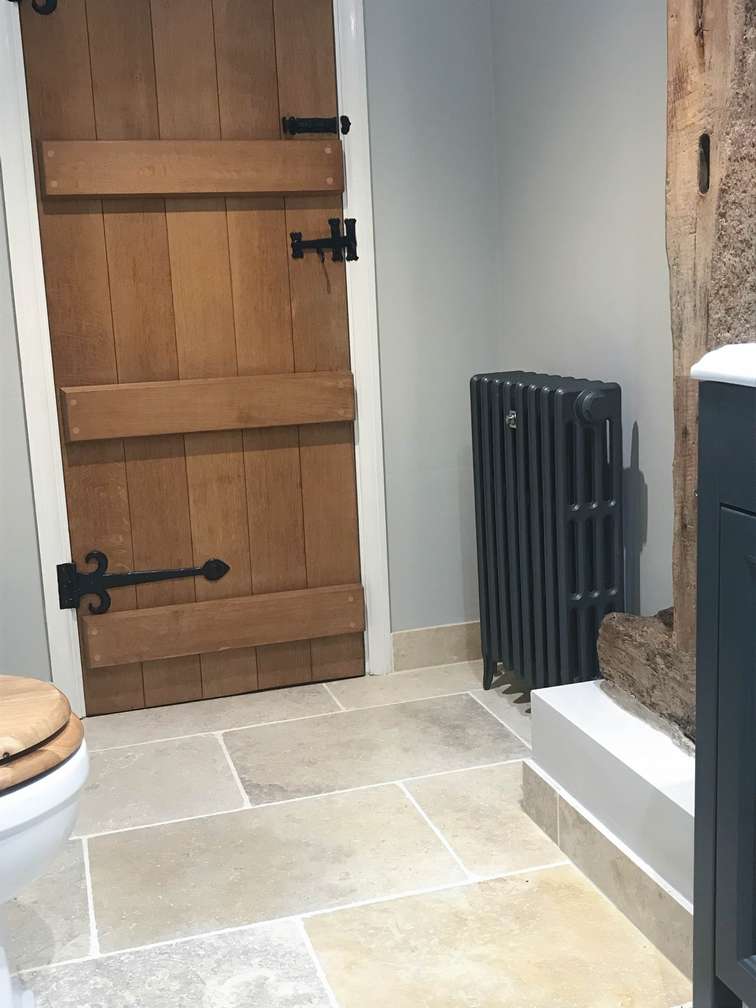 We think you will all agree that they all complement each other really well.
Many thanks to Mrs S of East Sussex for these photos.
(7th February 2018)
---
Lead times back to 7-10 working days for despatch
With our production team working tirelessly to get your orders ready for despatch since our return after the Christmas break, they have now successfully managed to get the lead time from order placed to the despatch of our traditional radiators down to an impressive anticipated 7 to 10 working days.
Therefore all orders placed now will be ready for despatching within these time scales which will make planning a lot easier for all our customers.
The production team are now determined to reduce this even further to a maximum of 7 working days over the coming weeks so that your projects can run smoothly and be completed in good time. So keep watching this space for further updates.
(31st January 2018)
---
Cosy farmhouse dining room
These wonderful pictures were sent to us by our customer showing a Traditional four column 460mm radiator with Bentley Antique Copper TRV valves, Black Nickel Luxury wall stays and Pipe Shrouds.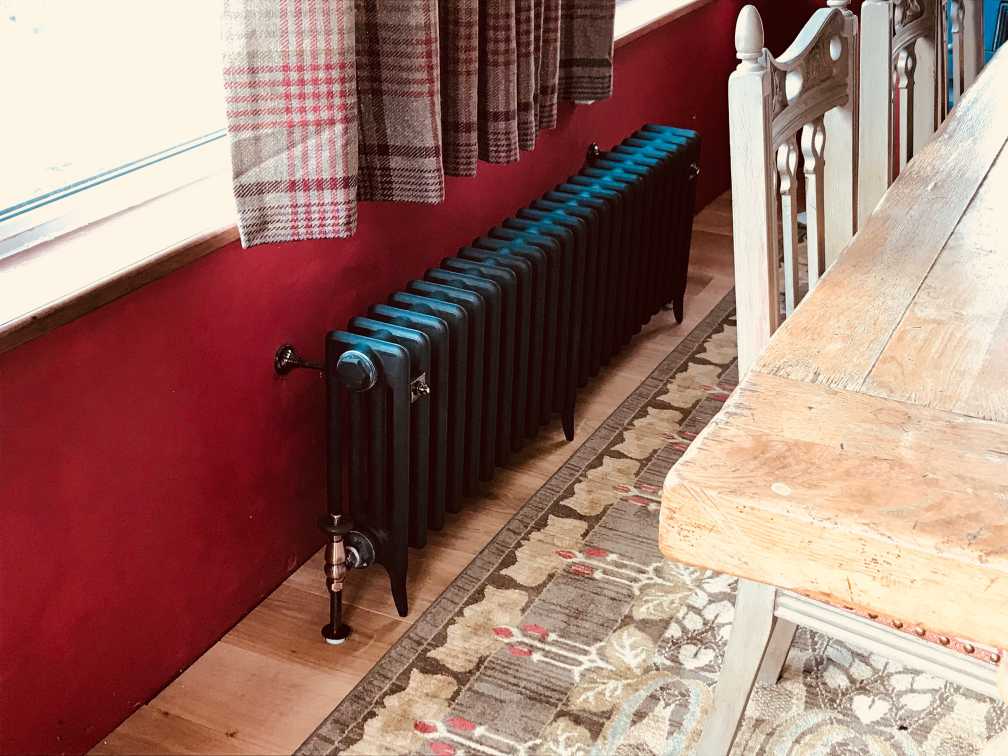 The simple design of this radiator looks stunning against the deep red walls of this traditional dining room and complements its warm oak floor with solid wood furniture. We are sure our radiator makes the decision of who sits where a little more complicated now!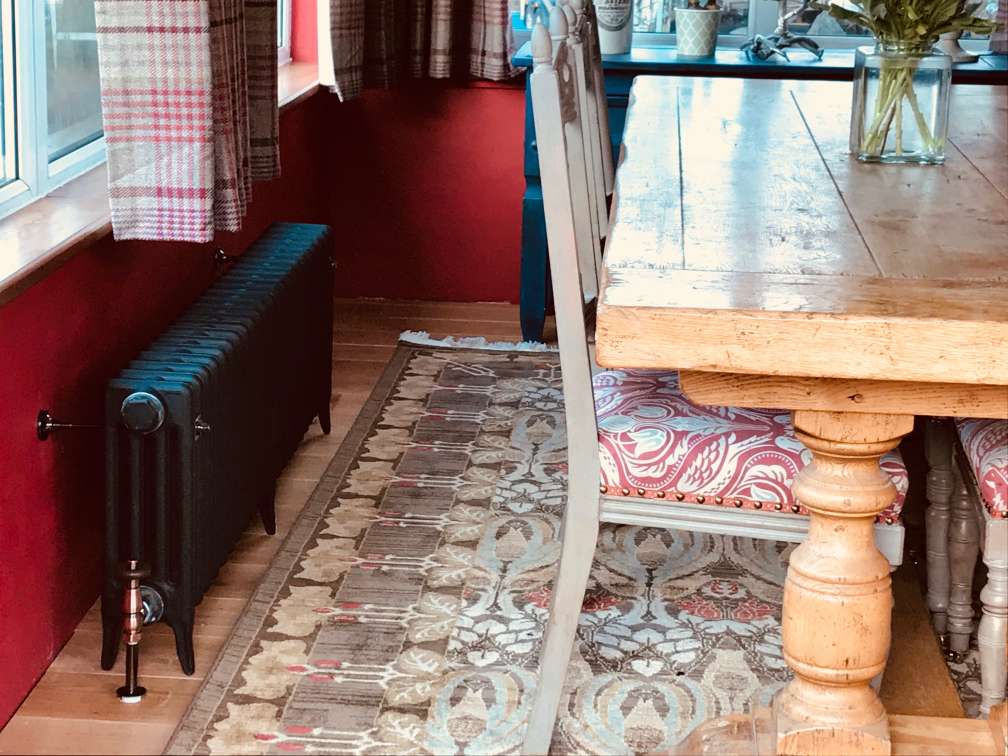 Many thanks again for the lovely photos. Courtesy of MRS F in beautiful NW Wales.
(17th January 2018)
---
Happy New Year to all our new & returning customers!!
We hope you all had a wonderful Christmas and wish you all a very Happy & Healthy New Year.
Here at the Cast Iron Radiator Centre, having recharged our batteries, it is all hands to the pump to continue to get your orders out in good time.
Our cast iron radiators continue to be massively popular all over the UK & Europe and despite it only being few days since some of us have been back to work the orders keep pouring in. This probably being due not only to our great customer service, but that we remain the best value online.
We have several traditional radiators ON SALE at the moment, but this will need to end for some styles within the next week, so please don't miss this opportunity to grab a bargain.
Don't worry though, even when our cast radiators are not on sale, they will still be the best value available online through our easy to use website.
Thank you again for your continued support.
The CIRC Team
(4th January 2018)
---
Cast iron radiators for pre-Christmas delivery
To endeavour to have our cast iron radiators completed for pre-Christmas delivery, please be advised the final date for placing orders will be 30th November 2017, with the last despatch date for pallet delivery being 20th December.
For all radiator orders due for despatch between 18th-20th December, we will contact you to arrange a dedicated date for delivery, so please ensure that we have the best contact number for you so that we can call you as soon as your order is ready to arrange delivery.
If we cannot contact you to ensure someone will be available to sign for and to arrange delivery before Christmas, then your order will be held over for delivery in the New Year. If your order is required in the New Year, then please indicate this on your order so that we can prioritise its delivery early in January.
All courier deliveries for valves and accessories will continue to be despatched up to 21st December 2017.
(28th November 2017)
---
The pre-Christmas rush and current lead times
As we continue to get our orders prepared for our customers and remaining as transparent as possible, our stated lead times on orders placed at the moment are currently 1-2 working days behind the schedule. We are all continuing to get orders out as soon as possible and we are happy to offer dedicated day or next delivery slots if needed to our customers at no additional cost if we cannot meet stated lead time at order.
In order to guarantee pre-Christmas delivery of our cast iron radiators, please ensure you order soon as the cut-off date will soon be announced.
(23rd November 2017)
---
New lead times
As mentioned in our previous news feeds, current demand for our cast iron radiators remains at record levels, which is due not only to the fact they are great quality, but also that they remain the best value online.
In view of this, our lead time from order placed to anticipated despatch is now 12-14 full working days.
In order to not miss out on guaranteed pre-Christmas delivery, please order our traditional radiators as soon as you can.
(10th November 2017)
---
The Christmas rush has begun!
As we enter our busiest month of the year and minds turn to getting projects completed ready for Christmas, now is the time to get your cast iron radiators ordered so that you are not disappointed.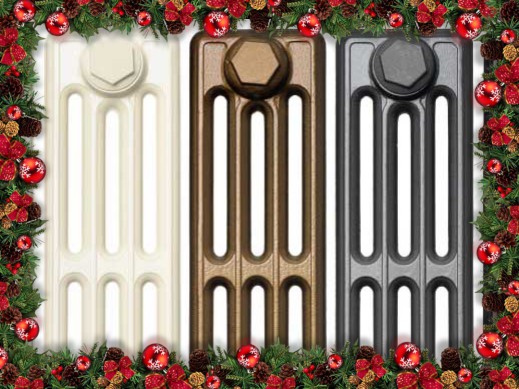 In order to ensure we have enough time to prepare your order, and get it despatched and delivered in time for you to have it fitted before the Christmas festivities, please ensure you order as soon as possible.
Even if you want to do a little DIY between Christmas & New Year, you will need to organise your delivery for before we break up for the festivities, as most pallet couriers also close during this period.
If you need some help working out sizes and what heat outputs are required, please see our Guide to Calculating Pipe Centres and simple to use BTU Calculator.
Please remember that out lead times are a good guide and currently it is anticipated at 12 full working days (2½ weeks) to despatch, but this will need to be extended to around 14+ working days to despatch as the volume of orders continue to increase, so please don't leave it too late to get your traditional radiators.
(1st November 2017)
---
Our Victorian radiators are keeping customers cosy in Tenby Micro Brewery & hostelries!
Having just spent a somewhat wet and windy few days in Pembrokeshire over the half term and becoming well versed in what 'Storm Brian' had to offer, it was a welcome sight to find The Harbwr Brewery in Tenby (and meet Richard), where our cast iron radiators have been used to help finish off this wonderful restoration project complimenting the industrial look of the Tap House above the brewery itself.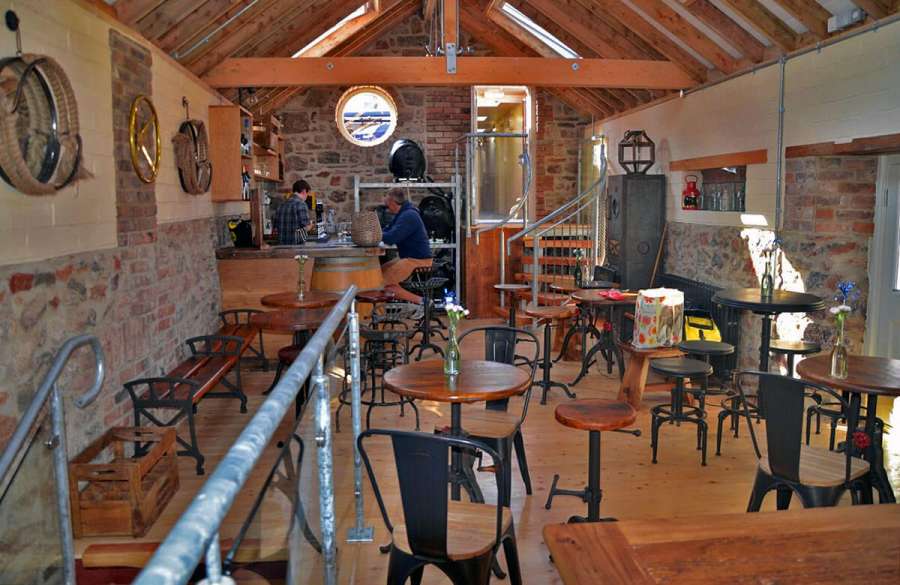 The owners also have two great pubs nearby in the town (The Hope & Anchor and The Buccaneer), which is where we headed off to for a well-earned drink and some fantastic homemade food. All are well worth a visit if you get the chance.
On such a dismal damp October day, true to form, our radiators allowed many (including myself) to warm themselves in great surroundings before heading off again on their travels.
It was a little difficult to get great photos of the cast iron radiators as customers seemed a little reluctant to stand away from their cosy seats next to them.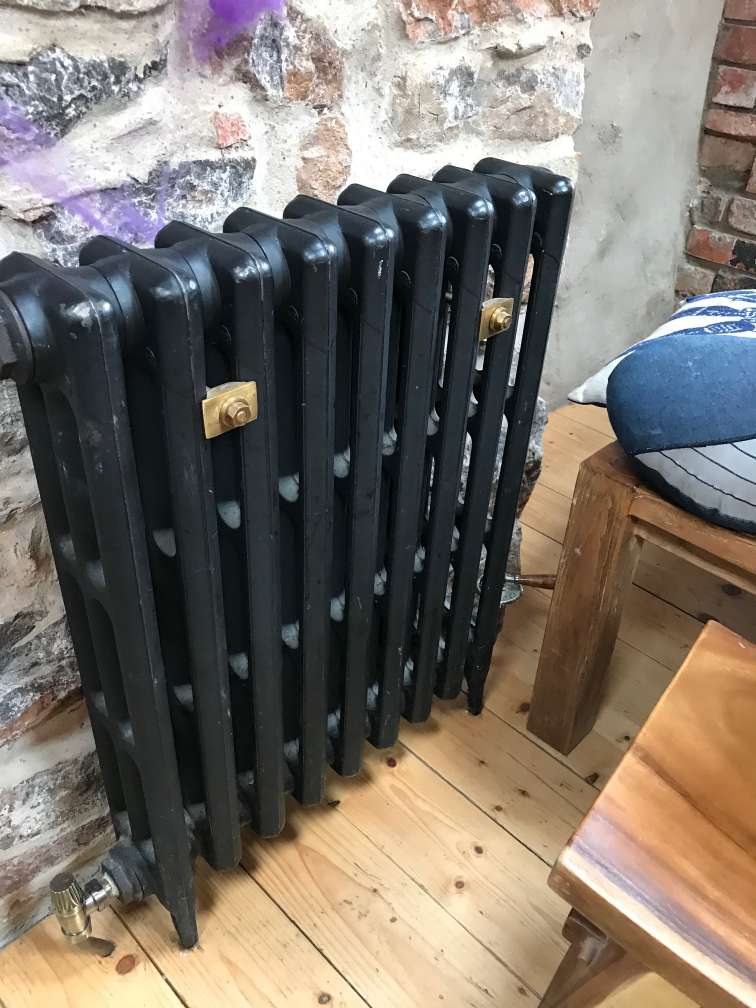 If you want to supply us with your photos of our cast iron radiators in situ, please feel free to send them to us and we will happily share them for others to see.
(30th October 2017)
---
Update on current lead times for our cast iron radiators
As the cold weather starts to take hold and our order volumes steadily increase for our traditional radiators, we have adjusted our lead time from when your orders are placed to when they will be ready for despatch or collection to 10-12 full working days.
We will of course always strive to beat these lead times, but cannot guarantee this, so please do plan on the advertised times above.
(3rd October 2017)
---
Record order volumes mean winter is coming!
Over the last few weeks we have all noticed the temperatures dropping slightly, the increasing number of cooler evenings and the misty mornings. For many, this is a reminder to get their heating systems checked and also look to replacing their radiators with our cast iron radiators in readiness for Christmas.
Subsequently, we have seen record orders for September already and as previously mentioned the pressure on keeping our current lead times in place has increased in order to meet this unprecedented demand. Therefore, the current lead time from when you place your order for our cast radiators now to when it will be ready for despatch or collection is anticipated to be 7-10 full working days.
In order to not be disappointed, please speak to your plumber/builder (not always possible we know!) as soon as possible to try and plan when you need your radiators so that we can assist in getting them ready for you in good time.
We will, of course, endeavour to keep this lead time intact for as long as possible, but to ensure that we don't compromise the quality in producing your fabulous traditional radiators remains our highest priority, our lead times may need to be revised.
Therefore, please keep an eye on our news feed so that we can keep you up to date as we have heard some horror stories out there about customers being let down by unrealistic lead times. So transparency and honesty are the key principles here at the Cast Iron Radiator Centre.
(21st September 2017)
---
Starting to get ready for winter?
Our summer sale has proved a great success and many of you have taken advantage of the best prices on the internet that we offer for our cast iron radiators along with the additional sale discounts.
With winter fast approaching, we have now reached the busiest time of year for us. We continue to keep our lead times from order to dispatch the shortest we can, but with great demand for our traditional cast iron radiators, it is inevitable that this will increase slightly over the coming weeks. Therefore, now is the time to speak to your builder or plumber to find out when they want your radiators ready for fitting so that you can give us enough time to meet your deadlines so not to be disappointed.
(14th September 2017)
---
Best value radiators online
We have just taken delivery of new stock consisting of all styles of cast iron radiators that we offer in order to keep up with the huge demand due to the success of our Summer Sale.
With our traditional cast iron radiators being the cheapest online and along with our Summer Sale, we have never been so busy at this time of year. So don't miss this opportunity!
(9th August 2017)
---
Summer Sale proving a great success!
We have received a new delivery today, the third of which in the last 6 weeks. This has now been unloaded, checked and is straight into the production process to meet the high demands for cast iron radiators we are currently seeing.
This new delivery incorporates all styles from the popular Traditional 4 column design to the ornate Ascot and Balmoral radiators which have the 'WOW' factor.
With the Summer Sale proving really popular we now have plenty of stock to fulfil many more orders so please don't miss this great opportunity.
(28th June 2017)
---
Dispatched lead times slashed
Our production team have been working hard to ensure customers receive their cast iron radiators as soon as possible and have now got our order to dispatch lead time for all cast iron radiators ordered down to just 7 - 9 working days from 10 - 12 working days.
(26th April 2017)
---
Our commitment to quality
In our commitment to ensuring we provide the best quality at all times, we can confirm that ALL our cast iron radiators are fully CE Certified and meet British Standards BS EN 442-1 & BS EN 442-2.
We are very proud of what we have achieved and we make sure that the Cast Iron Radiator Centre remains at the forefront when it comes to ensuring all our customers, both commercial and residential, receive the best standards in terms of quality products and service at all times.
(1st March 2017)
---
Mobile telephone number and new courier
Following a strong start to 2017 and despite high volumes of orders being placed, we continue to despatch our cast iron radiators in the quoted 10-12 working days from when order placed.
In order to prevent unnecessary delays with the delivery of cast iron radiators due to not being able to leave voicemail messages etc., please ensure that you provide a mobile telephone number when placing your order.
This will not only ensure that our pallet delivery partner can contact you more easily, but with valves and accessory orders being shipped by our new courier (DPD), you will be able to take control of your parcel deliveries more easily and get these delivered when and where you want from your smart phone.
(17th February 2017)
---
Very Happy Christmas & New Year
From us all at the Cast Iron Radiator Centre, we would like to wish all our customers a very Happy Christmas & New Year. Thank you once again for all your support over the past 12 months and we look forward to hearing from you in 2017!
(16th December 2016)
---
Pre-Christmas deliveries & Christmas opening times
Cast Iron Radiator Centre will close for the Christmas & New Year holidays on 22nd December 2017 and reopen for normal business on 2nd January 2018.
For further details click here.
(11th November 2016)
---
Lead time changes
Due to the expected increase in sales at this time of year in the run up to Christmas we have extended our lead time from order placed to despatch to 10 - 12 working days. Obviously, we will always endeavour to beat these time frames if we can.
Please remember that if you require information regarding fitting your cast iron radiators or working out the pipe centres, please see our help page above where this information is available.
(18th October 2016)
---
Strike whilst the (cast) iron is hot!
Our current lead times for all radiator orders is now down to just 6 – 8 working days to despatch, our shortest time scales ever!
With the cooler months on the horizon, we don't expect to hold this lead time for too long, so take advantage of it whilst you can.
When placing your order our website will give you our current and most up-to-date lead times, both when picking you radiator and at checkout to help you plan.
(25th August 2016)
---
Faster cast iron radiator delivery
We have got our order to despatch lead time for all cast iron radiators ordered down to just 6 - 8 working days from 7 - 10 working days.
(27th July 2016)
---
Touch up paint now available
Listening to our customers' requests asking for handy and affordable touch up paint for our cast iron radiators, we have just taken delivery of the first batch of mini paint pots in our exclusive colours which also come with integral brushes.
Not only are these great for touching up those little marks following fitting, they are perfect for painting unfinished wall stays (SM stay & hooked stay).
(22nd July 2016)
---
Summer special offer
To mark one of the hottest days of the year so far, the Cast Iron Radiator Centre has marked this occasion with its own "Sizzling Offer" by reducing the 460mm Traditional Column Design down to just £8.99 + VAT per section for a limited time only.
So in order to not miss out make sure you get your orders in soon, as this offer won't be around forever!
(18th July 2016)
---
New paint curing facility
Cast Iron Radiator Centre has invested again and improved its radiator production facility by adding a new and improved area for curing all painted radiators.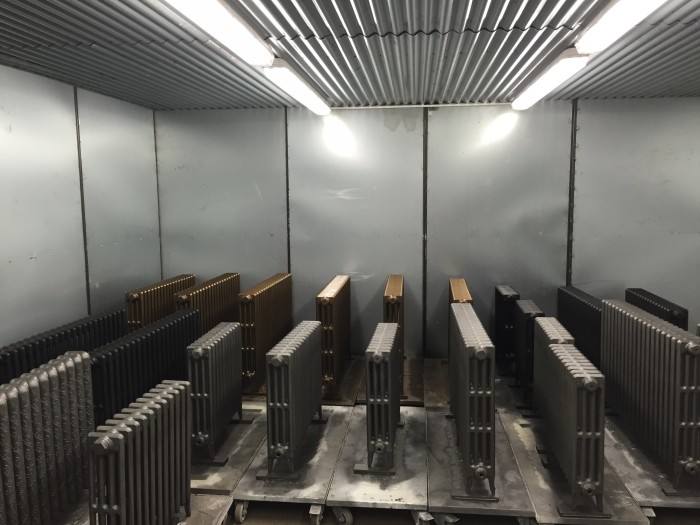 The area will ensure that all radiators will be held at the required temperature, free from contamination whilst the paint is allowed to cure correctly.
This may not appear too exciting to the laymen, but to our team, it means that they have even better facilities prepare your order as we continue to strive to provide that highest quality radiators at the very best prices.
This coupled with the new improved packaging materials and customer information will mean that your radiators should arrive in first class condition every time.'
(23rd June 2016)
---
Replacement bush ends & gaskets available to order
You can now purchase replacement bush ends & gaskets to match our cast iron radiators. These are ideal replacements if they have been lost or damaged.
Simply click here and choose the item, colour & quantity you require. We will ship them out to you via our courier service.
(10th May 2016)
---
Fitting guidelines & pipe centre advice
We've added useful guidelines for fitting our cast iron radiators and advice for calculating pipe centres & maximum radiator widths.
Radiator Fitting Guidelines
Calculating Pipe Centres & Maximum Width of Radiators

(20th April 2016)
---
Faster cast iron radiator delivery
We have got our order to despatch lead time for all cast iron radiators ordered down to just 7-10 working days from 12-14 working days.
(27th January 2016)
---
Cast iron radiator price match guarantee
We now offer a Cast Iron Radiator Price Match Guarantee on all our cast iron radiators against the prices of the same items sold by other retailers.
We are confident that all products we sell are not only excellent quality, but that our cast iron radiator prices are the most competitive.
In the unlikely event that you find a Cast Iron Radiator (not other products) of the same specification cheaper elsewhere, please do not hesitate to contact us directly on 0800 294 8603 or email us through the Contact page and we will look to match the price offered.
We will ask you to provide a copy of the formal quotation from the other retailer for the product in question to ensure.
If we can confirm that the standard price of the cast iron radiator(s) is less for the same item, we will not hesitate to match the competitor's price.
(14th August 2015)
---
Our Cast Iron Radiators Chosen for Concorde House
Cast Iron Radiator Centre were invited to supply cast iron radiators to an exclusive contemporary development in the heart of Birmingham city centre.
Cast Iron Radiator Centre were approached by the Elevate Property Group to supply vintage style Princess cast iron radiators and accessories, having been let down by another supplier at the last moment.
Concorde House is stunning conversion of an old 1930's warehouse in the city centre which has been brought back to life by being re-engineered & extensively refurbished.
Concorde House will consist of 15 loft style apartments and penthouses with roof terraces.
Each apartment has been carefully designed to offer a modern industrial feel giving the building a bright future in a vibrant area of the city.
The development boasts a blend of both original features and contemporary signature pieces give an aesthetic industrial grit and refinement.
The Cast Iron Radiator Centre is very please to play a small, but significant part in this stunning project.
(3rd July 2015)
---
ELLE Decoration
Cast Iron Radiator Centre is delighted to have been included in the latest edition of ELLE Decoration Secret Address directory. We are very happy, that after launching our new website just 6 months ago, we have been singled out as a trusted supplier of cast iron radiators across the UK & Europe. Click here to see the entry.
ELLE Decoration is where style lives. It is the ultimate guide to decorating and design and the indispensable go-to source for everyone who wants to create a more beautiful life. Being acknowledged by such a prestigious interior design magazine is a real bonus & rewards all the hard work we put into supplying great cast iron radiators at fantastic prices.
(20th March 2015)
---
Traditional Radiator & Victorian Radiator Ranges Updated
The Cast Iron Radiator Centre is delighted to have improved our range of Victorian radiators, Traditional & Old Fashioned radiators, Vintage radiators, Old Style school radiators, and Period radiators.
(13th March 2015)
---
Website Improvements
We've made some improvements to our cast iron radiator website to make the buying process even easier.
PayPal Express Checkout has been added to allow checkout without having to enter address details.
A 5% discount voucher is now automatically applied when purchasing radiators with total value of £2,000 or more.
An "Email basket" button has been added to the basket page to allow you to email the basket to yourself or a friend. The basket can be restored at any time by clicking the "Restore basket" button in the email.
(2nd March 2015)
---
The Autumn/Winter Season
The Autumn/Winter season has seen bumper sales for our cast iron radiators and accessories despite the warmer than average temperatures up to the end of October. Obviously, offering great value for money is key to many customers on tight budgets.
We are still taking orders for pre-Christmas delivery up to 7th December and this is despite a big spike in orders over the last few weeks. Our radiator department are working hard to meet everyone's requirements to ensure a warm and cosy Christmas.
(5th December 2014)
---
Cast Iron Radiators Centre
Launch of our new bespoke cast iron radiator website.
(12th September 2014)
---
Our traditional radiators chosen for major Reading loft development
Due to their timeless industrial style, our traditional radiators have been chosen for a stunning collection of 14 New York loft style apartments and penthouses in Reading town centre.
(12th August 2014)
---
Our Cast Iron Radiators Cast In RSC's Production of Hamlet
Showing the broad appeal of our cast iron radiators, we recently supplied some of these to the Royal Shakespeare Company (RSC) for use in their production of Hamlet.
(9th July 2014)
---
Cast Iron Radiators - Keeping JD Wetherspoon customers warm and cosy
For the past few years, through our relationship with several successful plumbing and mechanical service companies, we have been supplying its popular cast iron radiators to the JD WETHERSPOON Pub Chain.
As one of the the few companies bucking the 'gloom & doom' of the last few years, JD WETHERSPOON have stuck to an extensive programme which will look to open 250 new pubs over a five year period. This just proves that despite what the media say, we still need a great local pub to meet with friends to cheer us up.
We have supplied cast radiators to many of their pubs and new hotels all over England and Scotland in a variety of heights, widths and styles, but all exude the charm of a bygone era.
Whether we are supplying cast radiators to large pub chains or to individuals, we understand that all have tight deadlines to meet and budgets to stick to.
This however, does come with its own challenges. At Cast Iron Radiator Centre our focus on great customer service along with excellent communication with every customer, means that we are always endeavouring to be one step ahead in case we have to iron out any logistical issues or last minute changes our customers have, in order to keep every project on time and within budget.
(1st July 2014)
---