All our radiators will be delivered on pallets to kerbside or nearest hard standing by our delivery partner.
Here at The Cast Iron Radiator Centre, we take extra care to ensure that your radiator order reaches you in the best condition.
These include:
Every pallet used are either stamped euro pallets or made to our specification to prevent collapsing to protect your order in transit.
Every pallet has a pre-cut card layer pad placed on every pallet base to keep goods clean and prevent scuffing.
Every radiator is individually wrapped in 1mm protective foam.
Every layer has an additional 5mm foam sheet to give added protection.
Every pallet has a printed top card layer instructing not to drag radiators from pallet to protect paintwork.
Every pallet is then clear wrapped and 'Fragile – Do Not Stack' tape applied.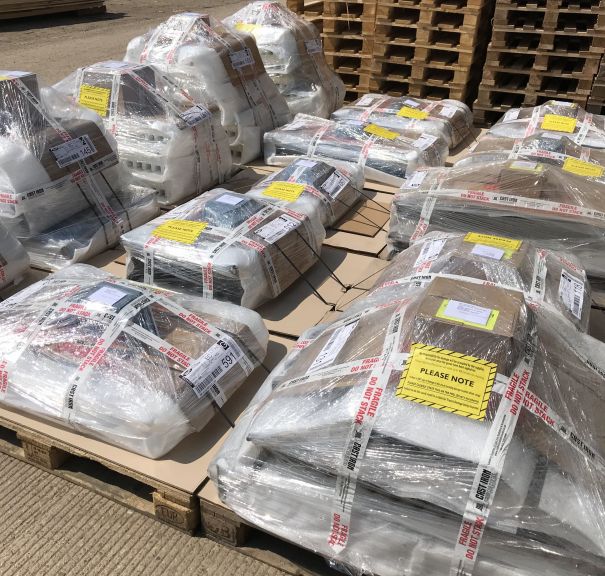 When your order is delivered, it is important to remember that cast iron radiators ARE VERY HEAVY - Always follow the correct HSE lifting guidelines and please ensure you have sufficient help to unload your order when it is delivered to you.

Care should be taken when removing radiators from the pallet on delivery. Radiators should be lifted off and NOT dragged/pulled as this will result in paintwork being damaged. When removed from the pallet, all radiators must be carried in an upright position to prevent damage to joints.
Whilst your radiator is on a pallet, the full length of the radiator is supported. Once the pallet is removed the radiator needs to be carried upright at all times.
A common cause of leakage is due to strain on the gasket seals caused by carrying the radiator flat without supporting the middle sections or dragging the radiator. The longer the radiator the greater the strain imposed on the water tight seals.
Two short pieces of wood 20mm x 50mm x 250mm wrapped with a tea towel or similar, make good handles when inserted between the last 2 sections at either end.
The correct way to carry a radiator is to keep it upright at all times. Please take care when lifting cast iron radiators as they are very heavy.
Never attempt to lift a cast iron radiator on your own or be tempted to drag the radiator across the floor surface into position for plumbing as this will cause strain on the water tight seals and cause leaking problems to occur.